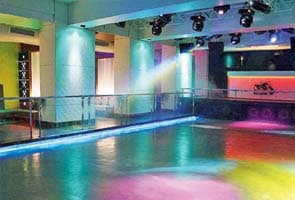 Mumbai:
The city's party-hoppers may soon suffer from sleepless nights of a different kind. Police Commissioner Arup Patnaik has written to the state government that 14 city pubs, which enjoy the privilege of remaining open till 3 am by virtue of being inside 5-star hotels, should fall in with the regular 1:30 am deadline in order to avoid brawls.
Fearing that the move may level a body blow to the already weakened food and beverages industry, members of the Hotel and Restaurant Association of Western India (HRA-WI) have decided to appeal to the commissioner against the move.
Patnaik's campaign to force these 5-star pubs to shut down early came in the wake of the brawl between actor Shah Rukh Khan and director Shirish Kunder at actor Sanjay Dutt's party, which took place on January 29 at popular Juhu night-spot Aurus.
'Publicity gimmick'
Angry hoteliers, however, claimed that they are being scapegoated as the high-profile brawl was only a publicity gimmick. Kamlesh Barot, president of HRA-WI, said, "The special permissions are obtained after our long deliberations with the government. To make Mumbai an international city, it is necessary to have food and beverage options available to foreigners. We will appeal to the commissioner and request him to reconsider the decision, as these brawls are actually publicity gimmicks."
'Don't punish us all'
The owner of one of the five-star hotels in the line of fire said, "This is unfair. Cops have full right to prosecute those who violate norms, but showing prejudice against all establishments just because one person has broken the law is unfair. We need to grow and need to be at par with countries the world over. The government should definitely be strict in the implementation of law and order, but it is also important to woo tourists and generate revenue."
Another pub owner from Andheri echoed Barot's sentiments, saying, "These are just publicity gimmicks. Recently a brawl took place at the Wasabi restaurant in the Taj hotel, between actor Saif Ali Khan and an NRI businessman. Will the police also shut the restaurants down, then? These are publicity stunts. We cannot be punished for somebody else's actions. At the most, cops can be vigilant about the timings, but cannot stop tourists from enjoying the city's nightlife."
According to reports, clubs that will be forced to bring up their closing time to 1.30 am are Enigma at the J W Marriott, Rock Bottom at Ramee Guestline, Sutra Bollywood Bar at the Grand Intercontinental, Cyclone at The Leela, China House at the Grand Hyatt, and nine others.