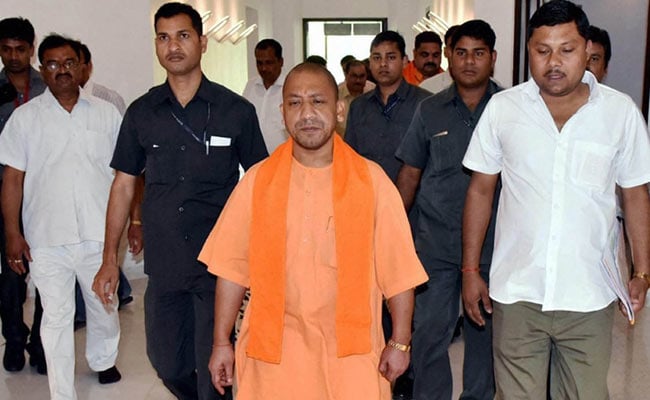 Lucknow:
Uttar Pradesh chief minister Yogi Adityanath has banned people from clicking selfies on the road leading up to his official residence in Lucknow's Kalidas Marg. A sign put up by the state's police at the beginning of the road warning against selfies has however been removed after much criticism and mirth on social media.
The sign said clicking pictures and selfies in the VIP area was an offence and would invite strict action.
Among the first to comment on Twitter was Yogi Adityanath's predecessor and the previous resident of the sprawling 5, Kalidas Marg bungalow, Akhilesh Yadav. Tweeting in Hindi, he called it a New Year's gift for the people of UP, linking it to UPCOCA, a new law in the state that opposition parties are up in arms against.
"A New Year's Gift for the people of Uttar Pradesh, taking selfies could attract UPCOCA," the former chief minister and Samajwadi Party boss tweeted in Hindi.
नए साल में जनता को उत्तर प्रदेश सरकार का तोहफा, सेल्फी लेने पर लग सकता है यूपीकोका!

- Akhilesh Yadav (@yadavakhilesh) December 20, 2017
Opposition parties have alleged that the Uttar Pradesh Control of Organised Crime Act or UPCOCA, tabled by the BJP government in the state assembly last week, is intended to be used against rivals to settle political scores.
The Yogi Adityanath government has said it has studied a Maharashtra law against organised crime closely and that UP's massive law and order problem can only be solved with the kind of stringent action that the proposed UPCOCA prescribes.
Akhilesh Yadav, who struggled with controlling UP's notorious crime, has said the new law "deceives the people" and will not improve law and order.
Bahujan Samaj Party chief Mayawati has demanded that UPCOCA be scrapped. She has alleged that the government will use it as a "political weapon" to oppress the poor, Dalits and minorities.
The BJP won a massive majority in this year's UP elections and will have no trouble in pushing UPCOCA through the assembly.