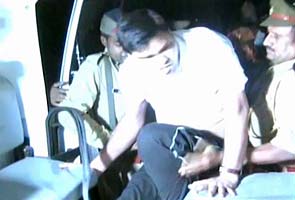 Lucknow:
A provincial civil services officer, Rinku Singh Rahi, who launched his hunger strike in Lucknow on Monday demanding a probe into charges of corruption in state-run schemes, was whisked away by the police from the dharna site at midnight and taken to the psychiatric ward of a medical college in the city.
Doctors there, however, reportedly refused to admit him. He was then sent off to his hometown Aligarh.
In midnight drama in Uttar Pradesh's capital, Mr Rahi was picked up from outside the Lucknow assembly because the Chief Medical Officer diagnosed him with low blood pressure. He was first taken to the Balrampur hospital and later to the Lucknow medical college. Doctors at both hospitals refused to admit him.
Mr Rahi has been raising the issue of corruption in the state government sponsored schemes ever since his stint as the District Social Welfare Officer in Muzzafarnagar in 2009. He has exposed corruption to the tune of Rs. 40 crore, for which he also suffered an attempt on his life when the local mafia pumped six bullets into him on March 26, 2009 - in that assault, he lost vision in one eye.
He claims that attack was carried out at the behest of his department officials who he was trying to expose. A state government enquiry later on proved his claims that the spending of allocated funds was not accounted for by the Social Welfare Department for more than five years.
Mr Rahi is currently posted at the state-run coaching institute for IAS and IPS aspirants from the Dalit community in Aligarh.
A few days ago, before setting out for Lucknow for his hunger strike, the officer had told reporters in Aligarh that now with a regime change in UP, he was hopeful that the Akhilesh Yadav government will pay heed to his demands of a criminal investigation into the allegations of widespread corruption in social welfare schemes of the state government.