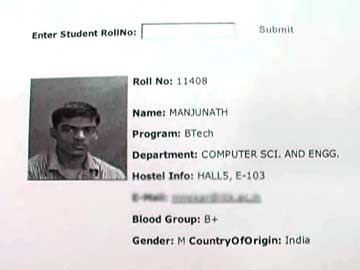 Lucknow:
A 21-year-old student at IIT Kanpur has committed suicide in his hostel room by drinking poison. This is the second suicide in the last three years by a student at India's premier engineering institute.
Manjunath was studying Computer Science. He belonged to Karnataka. He had lost his father and sister; he is survived by his mother.
Sources on campus say the third-year student, was depressed and had been consulting a psychiatrist on campus.
In a statement issued in the evening, the institute's director said they will conduct an enquiry into the circumstances under which Manjunath died.
Rakesh Kumar Sachaan, the Registrar at the institute, said that Manjunath came from "a troubled background" and had been admitted to IIT under a quota for differently abled students.
Since 2005, 15 students at IIT Kanpur have killed themselves.