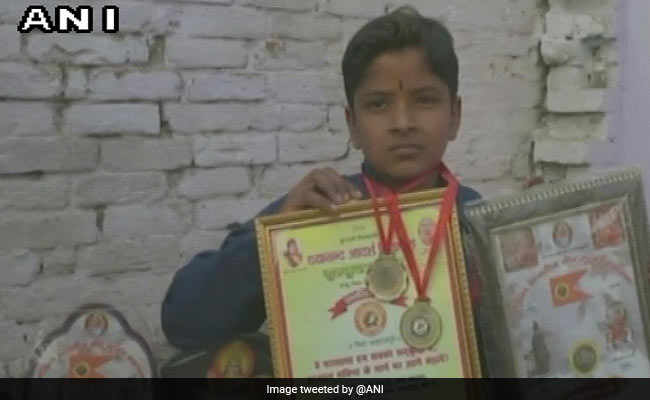 New Delhi:
This number may intimidate the best of us but not this Class 8 student from Uttar Pradesh. Chirag Singh, studying in a local school in Uttar Pradesh's Saharanpur, claims he knows multiplication tables up to 20 crore, which, in numbers, looks like this - 20,00,00,000.
"I want to become a scientist and make my country proud. I also want to call Modi Ji and Yogi Ji to my village," Chirag told news agency ANI.
The math wiz kid proudly shows off the medals and certificates he has won in various competitions. His father Narendra Singh says though he is "from a poor family but he ready to do everything" to help his son be a scientist and he wishes Chirag "makes the country proud".
Union Minister for Minority Affairs Mukhtar Abbas Naqvi will be in Lucknow today to discuss several central schemes including education for children. Speaking to news agency IANS on Navodaya schools, the minister said, "The implementation of a plethora of central schemes for minorities is on the cards". Mr Naqvi said, "The idea is to have around 30-35 per cent of students from minority communities and rest from other communities." There would not be any "reservation for minority students," he clarified.
Mr Naqvi said, "We are working on the concept of '3T's, that is, teacher, tiffin and toilet. We are providing teachers to the madrasas for subjects like English, Mathematics, Science, Computer science etc, to link the madrasa students with mainstream." More such meetings will soon be held in Mumbai and Kolkata, he said.
(With inputs from agencies)