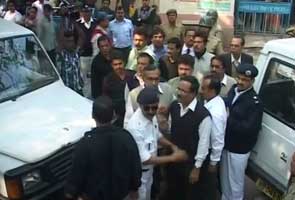 Kolkata:
It's an anniversary no one wants to observe. But there is no escaping the memories of December 9, 2011 when 93 patients at the AMRI hospital in south Kolkata were virtually gassed to death in their hospital beds. A fire in the basement sent noxious smoke surging through the air conditioning ducts. The building was centrally air conditioned and there was no outlet for the fumes. The hospital had no means of evacuating patients and by the time the staff realized the gravity of the situation, it was too late.
For the families of the victims, the incident is still horrifyingly fresh in their minds. 40-year-old Shubhashish Chakraborty remembers that his wife Munmun called him at 4:10 in the morning saying there was a fire at the hospital where she was admitted with a broken ankle. "Come soon," she had said, "get me out."
Munmun, 36, had been admitted to AMRI with a broken ankle a few days before December 9. She had undergone surgery and was ready to be released by the hospital any day.
Shubhashish was at the hospital in 10 minutes and at 4: 20 pm called Munmun back. "She answered the phone but she could not talk. She was coughing. I stood helplessly outside AMRI as smoke engulfed the building. I will never forget how helpless I felt," Shubhashish says.
At home, three-and-a-half year old Rishiraj believes his mother is still in hospital. Shubashish hasn't had the heart to tell him that his mother is no more. His 11-year-old daughter, Titlee, knows the truth but has never shared it with her brother. Munmun's mother has moved in and takes care of the house and the children. A year after losing her daughter, she is still distraught.
"We had studied in history how Hitler had killed people by forcing them into gas chambers. This incident was no different," Shubhashish says.
The Gangulys of Behala lost the head of the family, Jaharlal, in the fire that day and they are still angry at the glaring lapses that claimed so many lives. "A hospital with no ramps, a hospital without fire exits, a hospital with no sprinklers, a hospital where when the smoke fill it, there were no blowers to remove the it, a hospital where the staff just didn't bother to save the patients. Fire safety is a big thing. There was no safety," says the victim's son, Raja Ganguly.
Jaharlal had been admitted to ICU. When news of the fire reached him, Raja rushed to the hospital and demanded that he be allowed to take his father away. The hospital staff assured him everything was under control, the ICU was isolated from the smoke and fire and that he didn't have to worry. Raja reluctantly left. He never saw his father alive again.
"I saw hell with my own eyes," he says. "Not just my father, 93 people suffocated to death as we watched helplessly. I cannot escape from that memory. It haunts me all the time," Ganguly says.
After the tragedy, the government began inspecting fire safety at all hospitals. It now claims 90 per cent have met requirements. Clearances for 10 per cent, including two other AMRI hospitals, are pending.
"When our teams went to the other AMRI hospitals, they found some anomalies. We have asked them to rectify it and report back to us," said Javed Khan, fire services minister.
Fire audits have been and are still being carried out in private and government hospitals. Among the big private hospitals that have got clearances are Belle Vue, Ruby and CMRI. Another prominent nursing home, Woodlands, has sought time to meet all fire safety norms.
Today, families of AMRI victims will gather at 3 pm at Gariahat and hold a silent march to AMRI hospital. They hope Kolkata has not forgotten the tragedy and will stand by their side.