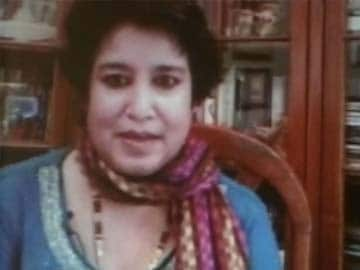 Kolkata:
The telecast of a TV serial based on a script by controversial Bangladeshi author Taslima Nasrin that was to go on air from tonight on a Bengali channel has been put off indefinitely. This, after several minority groups demanded the serial be shelved as it contained objectionable matter. They had earlier written to the chief minister about it and the Kolkata Police verbally advised the TV channel, Akash Aath, not to air the serial. Taslima was forced to leave Kolkata six years ago after trouble erupted over one of her books.
Called Dusahobas, the serial was written exclusively for television by Taslima Nasrin and she told a recent video press conference that she was really happy about it.
"A writer lives through her works. If my works are published and publicized, then I will be alive in Kolkata. My physical presence is not necessary," she had said.
But the telecast of the serial has now been put off indefinitely. The channel has issued a statement saying they are taking the decision for reasons beyond their control. They have added in the statement that the "serial was based on 'Women Empowerment' and had nothing to do with any religion or community whatsoever".
But minority groups were not convinced. First they demanded the withdrawal of hoardings and promos for the serial that had Taslima's pictures and voice. They were withdrawn. Yesterday, they wrote to the channel yesterday demanding the serial be shelved.
"We have come to know from reliable sources that there are one or more than one such objectionalable scenes which will hurt the muslim community so we wrote the letter please stop this nonsense thing," said Abdul Azeez, secretary of Milli Ittehad Parishad, one of the many groups protesting the serial.
Taslima Nasreen is clearly outraged and has been tweeting through the day about the situation. One of her earliest tweets said, "Unbelievable! WB Govt banned my upcoming megaserial abt women's rights bcz some Muslim fanatics objected.I feel like Im livng in Saudi Arabia. (sic)"
Last minute efforts to get the nod for the serial failed. Muslim outfits met this afternoon and categorically shot down the possibility. Dusahobas, at least for now, is not going see light of day.