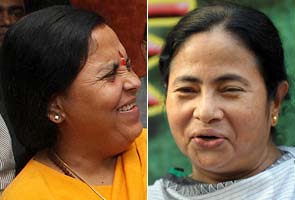 Kolkata:
Claiming that Trinamool Congress chief Mamata Banerjee has a "knack of ruining her allies", Bharatiya Janata Party (BJP) leader Uma Bharti on Monday "wished and prayed" that the West Bengal chief minister did the same to her current alliance partner Congress.
"She (Banerjee) has a special knack. She ensures the destruction of whichever party supports her or becomes an ally. She has destroyed the BJP in Bengal... I wish and pray that she does the same to her latest ally, the Congress," said Uma Bharti, who was in the city to spread awareness about the need for cleansing the river Ganga.
Uma Bharti, who recently returned to the BJP after being expelled in 2005 for defying the party's central leadership, said it was in the interest of the country that the Congress is wiped out.
Welcoming the regime change in West Bengal, she said Banerjee should remember that the same people who had brought in the communist government in the state caused its demise. "She must therefore work for them or she too will face the same fate."
Uma Bharti, however, refused to judge Banerjee's stint, saying it was too early to say anything.
About her "Save Ganga" campaign, Uma Bharti said it was "foolish" of some people to link the river with Hindutva and give it a communal colour.
She demanded constitution of a board of experts to look after the purification of the river.
"We demand constitution of a board comprising experts that would ensure the river is cleansed and is free from all hazards. We also demand enactment of a law in this regard."
Observing that the power and the mining mafia were gradually causing the demise of the river, Uma Bharti said it was high time the central government paid heed to the demands, as the purification of the Ganga was a must-do.
She also said that if the demands were not met, a human chain will be formed from the Gangotri from where the river originates to Gangasagar, where it flows into the Bay of Bengal, demanding the restoration of the river to its original glory.