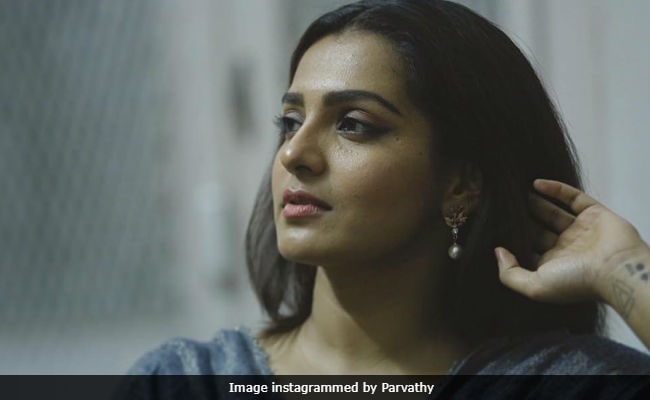 Highlights
Parvathy TK called out 'Kasaba' - a movie starring superstar Mammootty
She called it for dialogues which were "derogatory" towards women
Those remarks triggered a flood of abuse, she said
THIRUVANANTHAPURAM:
Parvathy TK, the award-winning actor from Kerala
who filed a complaint against online threats for her recent comments
against a 2016 Malayalam movie,
Kasaba
, told NDTV that one of the reasons for filing the police case was because it wasn't about her anymore.
"This is now much bigger than me. It's not about me only. It's about how women are treated when they respectfully put forward a different opinion. We've been silenced for years. I have been in this industry for eleven years and I must thank the fans for their support," the 29-year-old actor told NDTV in a phone interview after filing the police complaint.
A 23-year-old man, identified as Printo, has been arrested from Thrissur, for allegedly sending obscene abusive threats to the actor. He has been charged for intimidation and sexual abuse under the IT Act.
The cyber bullying, which ranged from character assassinations and name calling rape threats and acid attacks, has been relentless since she called out '
Kasaba
' - a movie starring superstar
Mammootty
, for dialogues that
many thought were derogatory towards women
.
At an event during the International Film Festival of Kerala this month, Ms Parvathy said: "
Kasaba
was a movie which I unfortunately watched... I was definitely disappointed to watch an actor par excellence, who happened to say certain dialogues which were not only derogatory but also most saddening to a woman in a scene".
In an oblique reference to the defence put forward by the film's director and others earlier, Ms Parvathy said it had been argued that cinema reflects the society around. "That's true. But the line has to be drawn between reflecting reality, and glorifying it," she had said.
Those remarks triggered a flood of abuse, Ms Parvathy said, of people trying to pull her down, threatening and abusing her.
There were some people who got the real point she was making too.
"But then, there were some messages that said, 'we get what you said'. But now, those who support me are almost equal in numbers...Support from the industry has been slow (but) there are a few who have vocally supported me," she told NDTV.
One of them was Chinmayi Sripada, the well-known playback singer, who recalled how she had been similarly targeted by some people as well.
She had then filed a police case against them and two men, including a clerk at a district collector's office, had been arrested. "Keep it up. It isn't easy though," she tweeted in encouragement.
2 guys went to jail. And the case is in Madras HC. One of the men was a clerk at a collectorate, the other at NIFT, no less! Most of these swines will use anything from casteist slurs, acid attack and rape threats and perpetuate misogyny. Keep it up. It isnt easy though :)

- Chinmayi Sripaada (@Chinmayi) December 26, 2017
Ms Parvathy, who retweeted her tweets, told NDTV that much of the discussion had moved beyond what she had said initially, to online abuse.
"Every complaint has a question, why don't we have stronger laws. It was about me for just a day, and now it has thrown the can of worms open", she said.
Women In Cinema Collective has also extended her support and filed a complaint with the police against the actor being bullied online.