Bengaluru:
The 'silk and milk' village of Vondaraguppe, in Karnataka's Ramanagara district, is going cashless. Or at least that is the aim as part of the central government's push toward a digital, cashless society. The reality is that while many are enjoying the advantages of digital transactions -- including dairy farmers and pensioners -- it isn't quite so easy to say goodbye to cash. Even in a village described as a cashless village.
Puttamma, 70, earns Rs 120 a day cleaning silk cocoons. And if the senior citizen needs to withdraw or deposit cash, she can do it from home with some digital help.
Shobha, who works as what is known as a bank correspondent with the local Bank of Baroda branch, goes to Puttamma's house along with her colleague, Shakuntaka. "We give her cash or deposit it for her if she gives us money. She needn't go to the bank and stand there or fill up forms," Shobha said.
Instead, with the help of a digital machine, the bank workers take Puttamma's thumbprint and print out details of her transaction -- whether a deposit or a payout to her.
"This is much easier for me. I can do it all from home," Puttamma told NDTV. This saves her from crossing a railway track and the busy Mysuru-Bengaluru highway to reach the bank branch.
It is a semi-digital state -- Puttamma still needs cash in hand for her daily needs.
The milk farmers of the village are further along on the cashless route. All dairy farmers here are paid online. "We get paid once in 15 days to our bank accounts. We don't need to stand in queues, sign papers. It is all done much more easily now," Manchaiah, a dairy farmer, told NDTV.
Ravi, a worker at the dairy cooperative, said, "It is much easier for dairy farmers to keep track of what they are earning. And as a result, it is easier for them to get loans."
But cash cannot disappear so easily. Vondanaguppe is on the Bengaluru-Mysuru highway and the little roadside shops deal only in cash. One shop owner, Yogananda, said he applied for a card machine 20 days ago, but it hasn't come yet. "We still use cash. People ask if we have a machine though," he said.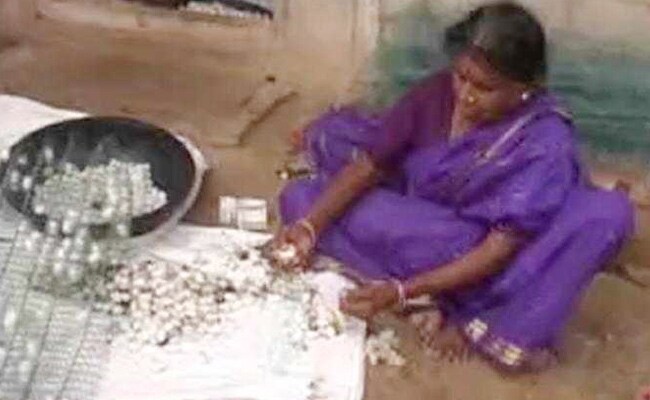 There are only five operational point-of-sale swipe machines in the area -- with applications for another five pending. Another shop owner, Raju, said he has also applied for a machine. On what he thought the benefit could be, he said, "I want to learn how to use it. It can help me if I go elsewhere too."
NDTV asked Ramesh Pakide, Bank of Baroda branch manager in Vondanaguppe, when the machines would come. "In one or two months. But for the real effect, everyone has to have debit cards," the banker said. "And while 90 to 95 per cent people in the village have back accounts now, not everybody has debit cards. And without debit cards, the swipe machines will not be so useful," he said.
Some 50 to 60 per cent bank account holders have debit cards now. Mr Pakide said mobile banking and internet banking would remain a challenge.
He hoped that the whole process, which began in January this year, would be over in another 10 months. "They have the habit of coming to the bank and taking cash. We have to educate them," he said.
But the district chief of Ramanagara BR Mamatha is hopeful. "We decided on this village because it is on the main highway, so we thought the level of literacy would be higher here," the official said.
"Initially it was very difficult. They were worried as to what was happening. Any change has its hiccups. But we created a lot of awareness. We held workshops on how to use this. And now a lot of them are finding it easier to use plastic money," the district chief said.
Vondaraguppe is known as a milk and silk village because a majority of people earn their living from dairy farming and sericulture. The government's aim is to make this village cashless -- and while some are getting the benefits of digital transactions -- it is all still very much a work in progress.
Get Breaking news, live coverage, and Latest News from India and around the world on NDTV.com. Catch all the Live TV action on NDTV 24x7 and NDTV India. Like us on Facebook or follow us on Twitter and Instagram for latest news and live news updates.