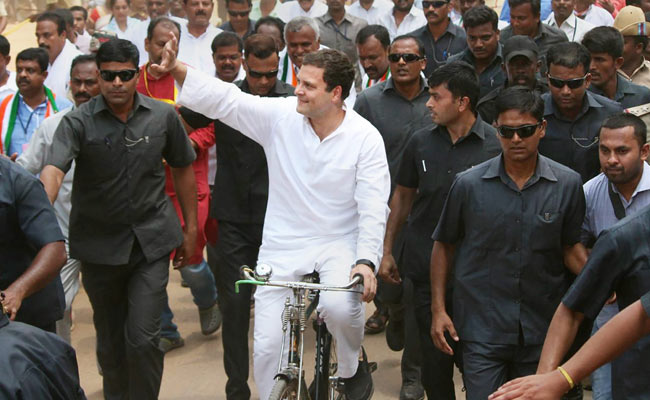 Kolar/Bengaluru:
Congress president Rahul Gandhi has added new ammunition to the party's poll arsenal for the
Karnataka assembly elections
, attacking the BJP-led government at the centre over rising fuel prices.
Campaigning in Karnataka's Kolar district on Monday, Rahul Gandhi rode a bicycle, trying to drive home the hardship faced by the common man in times of skyrocketing petrol and diesel prices.
Later, standing on a bullock cart, the Congress chief addressed a crowd that had flanked the road. Petrol prices are decreasing the world over but in India the prices are still high, he said.
"Earlier in the international market, the price was US $140 per barrel, now it is US $70 per barrel. So lakhs of crores of money is being saved by the government. Where is the money going?" asked Mr Gandhi.
The Congress president took to Twitter earlier in the day to attack the centre over the spike in fuel prices.
"The BJP Govt. collected 10 Lakh Crore in taxes on Petrol/LPG/Diesel since 2014. Yet, NO relief in prices for our citizens," he tweeted, also posting a video.
The BJP Govt. collected 10 Lakh Crore in taxes on Petrol/LPG/Diesel since 2014. Yet, NO relief in prices for our citizens. This video shows the truth about fuel prices under PM Modi.



I will lead a protest against these prices in Kolar at Noon, today.#BJPReducePetrolPricespic.twitter.com/YCnKwDPm6W— Rahul Gandhi (@RahulGandhi) May 7, 2018
Mr Gandhi targeted Prime Minister Narendra Modi, saying "you want to take away money from the common man and want to give it to your five or ten industrialist friends".
In Bengaluru, former Prime Minister, a renowned economist, attacked the centre for what he called
"systematically dismantling"
the third largest economy in the world.
Attributing the "historic high" prices of petrol and diesel in spite of lower global crude oil prices to the levy of "excessive excise taxes", Dr Singh accused the Modi government of "punishing" the people instead of passing on the benefits of low prices to them.
"Since the present government has assumed power, the international crude oil prices have declined to 67 per cent. However, petrol and diesel prices have on an average increased at 110 per cent," Dr Singh told reporters.
Claiming that the government is projected to have earned over Rs 10 lakh crore through constant increase in taxes, Dr Singh said "India must demand answers as to what use this money was put to".