Texas:
The adoptive father of the missing three-year-old Indian girl has been arrested after he provided "an alternate statement of events" about his daughter Sherin's disappearance, the police said. He now faces charges of injury to a child. Wesley Mathews' arrest came a day after the body of a small child was found near the family home. Police have said the body was "most likely" hers.
Sherin Mathews, who has developmental issues and limited verbal communication skills, was last seen outside her family home in Richardson city in Texas on October 7 after her Indian-American father Wesley Mathews scolded her and sent her alone outside late at night as punishment for not finishing her milk. After 15 minutes when he went out to check on her, Sherin was missing.
Wesley Mathews, 37, was arrested on child abandonment and endangerment charges the same day but was released on bail.
Wesley and his attorney voluntarily arrived at the Richardson police station yesterday and shared a different account of his adoptive daughter's disappearance, Police Sgt. Kevin Perlich said.
The body of the young child discovered on Sunday had not yet been identified, he said, and autopsy results from the Dallas County medical examiner were pending. Sgt Perlich added that investigators don't have any reason to believe the body is not that of Sherin Mathews, but they're waiting for a confirmation and the cause of death.
The two-week search for Sherin has involved drones, cadaver dogs, an Amber Alert and teams from multiple agencies that swept fields and other areas around the girl's home.
They also asked neighbors and nearby businesses if they have the footage of the family's maroon Acura SUV between the hours that Sherin was said to have been left outside and when her disappearance was reported.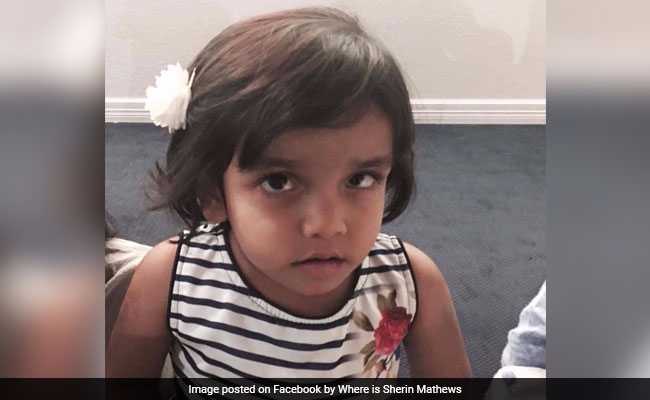 Her mysterious disappearance had also prompted the Child Protective Services (CPS) to remove Wesley's four-year-old biological daughter from their home and place her in foster care just a few days after Sherin went missing. Wesley and his wife Sini on Monday morning appeared before a judge, along with officials from Texas Child Protective Services (CPS), regarding her custody. The judge scheduled a new custody hearing for November 13, but said she would remain in foster care until then.
The judge said the extension would also allow time for CPS to conduct a home study in Fort Bend County, about 40 miles southwest of Houston, to determine if relatives or family friends could take her custody if necessary.
Get Breaking news, live coverage, and Latest News from India and around the world on NDTV.com. Catch all the Live TV action on NDTV 24x7 and NDTV India. Like us on Facebook or follow us on Twitter and Instagram for latest news and live news updates.