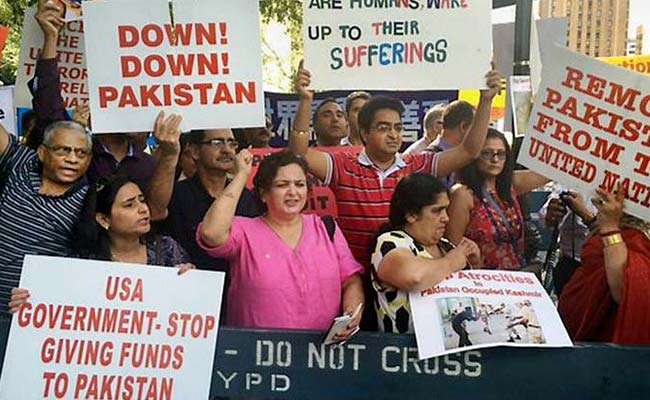 Houston:
Baloch nationalists along with the Indian-American community members staged a protest outside Pakistan's consulate shouting slogans against Pakistan for human rights violations, abduction and killings of civilians and rape of women in Balochistan.
Protestors also condemned the recent "dastardly and cowardly act of Pakistan-sponsored terrorist attack" in Uri.
Many protesters, mostly from the American Friends of Balochistan activists and Indian-Americans, carried placards highlighting the oppression of minorities, women and children in Pakistan and urged the United States government to stop funding Pakistan.
A placard held by a protestor described Pakistan as the "Ivy League of terrorism".
Two days ago, Indian diplomat Eenam Gambhir had said that the land of Taxila, one of the greatest learning centres of ancient times, "is now host to the Ivy League of terrorism" and attracts aspirants and apprentices from all over the world.
The protest ended with the gathering singing the national anthems of the US and India.
"The attack (on an army base in Uri) was carried out by banned terror group Jaish- e-Mohammed with the active support of Pakistani army and ISI, it is high time that those at helm consider it as an act of war by Pakistan against India," activist Achalesh Amar said.
The protest came after US congressman Ted Poe, chairman of the House Subcommittee on Terrorism, along with Congressman Dana Rohrabacher, introduced a bill in the US House of Representatives to designate Pakistan a "state sponsor of terrorism."
"It is time we stop paying Pakistan for its betrayal and designate it for what it is, a state sponsor of terrorism," Mr Poe had said after introducing the bill.
18 soldiers were killed when Pakistan based terrorists attacked a highly-guarded army camp in Uri in Kashmir on Sunday morning.