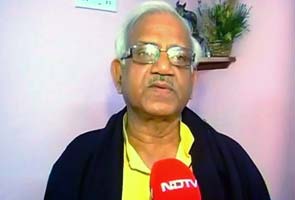 Kolkata:
Days after a Trinamool minister said many of his partymen were extorting money from people and Mamata Banerjee was aware of it, there are new allegations against the West Bengal Chief Minister.
One of the most senior members of the Trinamool Congress and the current chief whip of the party, Shobhan Deb Chattopadhyay, has said that he has been insulted and humiliated allegedly by party workers but Mamata Banerjee is yet to take any action.
"I recently went to address a meeting at the Calcutta University where I was heckled by a group of young boys who were shouting slogans Mamata Banerjee zindabad. They also threatened me to not hold the meeting. Now I have been doing politics for the last 50 years and I'm the first MLA of Trinamool Congress. I never expected this... it's beyond my expectation," Mr Chattopadhyay said.
He also said that Ms Banerjee phoned him and enquired about the incident. "I told her about all this. Mukul Roy also phoned and asked me about the incident. I have been in the party for a long time, no one can raise his finger," he added.
Mr Chattopadhyay said that Ms Banerjee should take some action as the image of the party is being tarnished. "In a national party, there are problems everywhere. But we thought in our party everybody carries out the order of Mamata Banerjee. Everybody. When the situation is such, when Mamata Bnaerjee has got the supreme authority, I think that she could have taken initiative to stop all these problems, all this chaos in the party and at the same time the people, those who are tarnishing the image of the party, she should take action immediately. Otherwise it will be difficult for her to keep the party intact and criticism will start everywhere if she cannot do that," Mr Chattopadhyay said.
Another senior leader of the Trinamool, Rabindranath Bhattacharya, had alleged on Tuesday that party cadres are engaged in extortion and Chief Minister Mamata Banerjee knows about it. He also alleged that Trinamool leaders were involved in cash-for-job scandals.
"Mamata Banerjee is claiming her party won't be involved in extortion. But party cadres are extorting money from people before my very eyes. I believe she (Banerjee) knows all these," said Mr Bhattacharya, a lawmaker from Singur.
Responding to the allegations, Trinamool MP Saugata Roy said the they are serious and had to be examined, but he defended the top leaders of the party, particularly Mamata Banerjee.
"Rabindranath Bhattacharya is a very respected man of our party. He is a teacher and very honest. When he says something it should be taken seriously. I do not know what extortion he is talking about. It is possible that at lowest levels this may be happening, but we only hear of such things. Concrete proof often eludes us, but I can tell you one thing which even he knows - that corruption does not exist in top echelons of the Trinamool Congress. And Mamata Banerjee is the cleanest of us all. If something like that has happened, I'm sure party will find out from him what he's talking about, who he is referring to," said Mr Roy.
After Ms Banerjee became Chief Minister, Mr Bhattacharya was initially handed the school education portfolio. But within a month and a half, he was shifted to agriculture. He was again shifted to department of statistics and programme implementation. Mr Bhattacharya had threatened to resign from the ministry and quit politics over his ministerial transfer.