Mansa:
Back at Mansa where he led a massive public rally in the early days of his 2015 agitation, 24-year-old Hardik Patel returned to the town, 30 kilometres from capital Gandhinagar, on Saturday to declare an all-out "war to weed out" the BJP government in the Gujarat assembly election and dared the ruling party leaders, who he said were trying to "target him personally", to send him to jail.
The face of the Patidar agitation for reservation in jobs and college education, Mr Patel had gone ahead with the rally despite the local police refusing permission. But a police officer said they did not prevent him from going ahead over concerns that it could lead to violence.
As he held forth for nearly 45 minutes, Mr Patel kept his attacks sharply focused on the BJP and its top leader, Prime Minister Narendra Modi who is leading the party's campaign.
But at one point, Mr Patel appeared to take a swipe at his new-found ally Congress vice president Rahul Gandhi as well when he told people to stop treating leaders such as PM Modi and Rahul Gandhi as celebrities.
They are like actors, he told the crowd to a roaring applause.
"I appeal to you just don't keep on clapping for them. Ask them questions... Ask them what they had done for you... They should be made answerable for what they have done for our rights," the fiery leader said.
Hardik Patel has pledged his support to the Congress in its attempt to wrest Gujarat from the BJP, which has held it for 22 years. In the initial few weeks, he had made this support contingent on the Congress vowing to cover Patidars under the 27 per cent quota for Other Backward Classes and delivered many ultimatums that he later cancelled.
The Congress hopes to piggyback Hardik Patel to persuade the Patidars -- they make up for 12 per cent of the state's population -- to support the party in next month's election. The Patels have traditionally been BJP supporters but the Congress hopes to harness the Patel anger against the BJP government to give them a chance.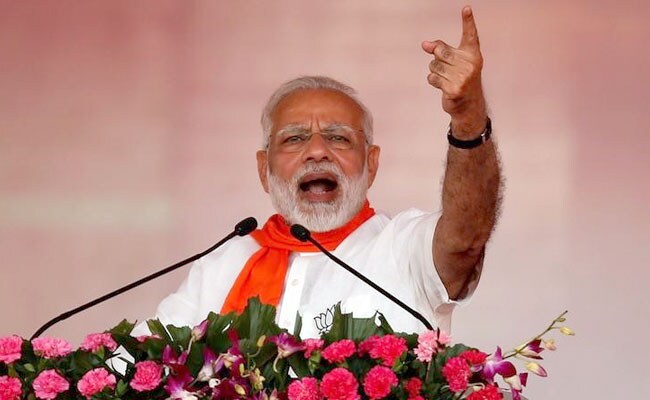 Mr Patel's group, Patidar Anamat Andolan Samiti, or PAAS, has accused the BJP for circulating
"morphed" video clips
of a man resembling Hardik Patel with an unidentified woman. He responded to these clips, daring the ruling party to "do it again".
"I stayed in jail for over nine months. You can do that again. You can also make my fake CDs, do whatever you can but I am not afraid of anything," he told a gathering of about 10,000 people at Mansa, also the home town of BJP president Amit Shah.
"But it is good that they made a fake video when I am only 23. If they come out with a genuine video at 30, nobody will believe them," he said.
The rally came on a day when two more people involved in founding the PAAS
joined the BJP
. "I would have appreciated if they would have left me and taken control of the reservation stir but by joining the BJP they have cheated the whole community. I do not understand whether this election is the BJP versus Congress or the BJP versus PAAS," he said.
Mansa is the place where Patels had held a massive public rally on July 22, 2015, to seek quota under the OBC category. It was also the second public gathering after the quota agitation began in Mehsana on July 6, 2015.
There was also an attempt to signal that his influence was expanding far beyond his community. "I am so happy that not just Patidars, but Thakors, Kshatriyas and members of other communities have come here. This is a fight for our rights which have been taken away for 25 years. Education, jobs, agriculture land, we have been provided nothing," he said.