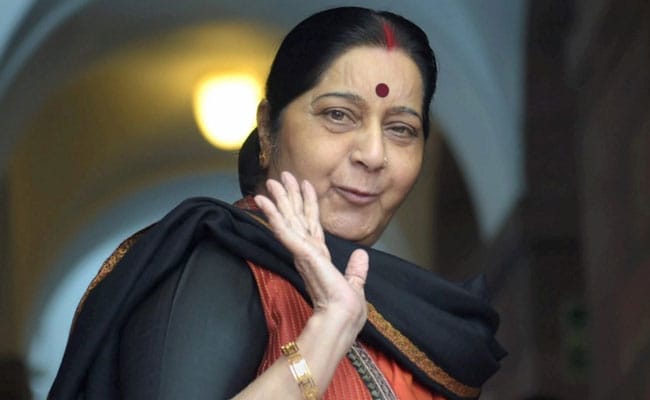 New Delhi:
Before she wrapped up her two-day visit to Kathmandu, Foreign Minister Sushma Swaraj today called on President Bidhya Devi Bhandari and met Upendra Yadav, Chairman of Federal Socialist Forum, Nepal. Keeping a busy and tight schedule, Ms Swaraj also met Chairman CPN (Maoist Centre) Pushpa Kamal Dahal 'Prachanda', now an ally of Nepal's Prime Minister in waiting KP Sharma Oli, congratulating both on their election performance.
During the meetings, Ms Swaraj assured the country's top leadership that India is looking forward to working with Nepal's democratically elected government to take bilateral ties to newer heights for mutual benefit and supports its efforts for economic growth and development.
Ms Swaraj got wide assurance that the new government in Kathmandu, set to be headed by Mr Oli, will work closely with New Delhi.
India has called Ms Swaraj's visit a "goodwill" visit, highlighting India's deep trade, economic and defence ties with the Himalayan nation.
The objective of the visit was to reach out to Mr Oli, who has deepened trade ties with China, signing several trade and transit deals.
Mr Oli has been miffed since India's economic blockade when Nepal was crippled after India blocked petrol supplies among other things - being the only provider of petrol to the country. He has also blamed India for his government's fall in 2016.
India accounts for over two-third of Nepal's merchandise trade, about one-third of trade in services, 46 per cent of foreign direct investments, almost 100 per cent of petroleum supplies and a significant share of inward remittance on account of pensioners and workers.
India also leads in FDI investment of Rs 5,159.86 crore whereas the total proposed FDI commitments to Nepal from all countries amount to Rs 13,178.15 crore as of May 2017.
An additional investment of 2.5 billion dollars will also come to Nepal from the Indian private sector and PSUs for development of two hydro-electric projects this year. India also accounts for several infrastructural and rail link projects. During the year 2017-18, a total of around 18 intermediate and large projects are under various stages of implementation in Nepal.
With inputs from agencies