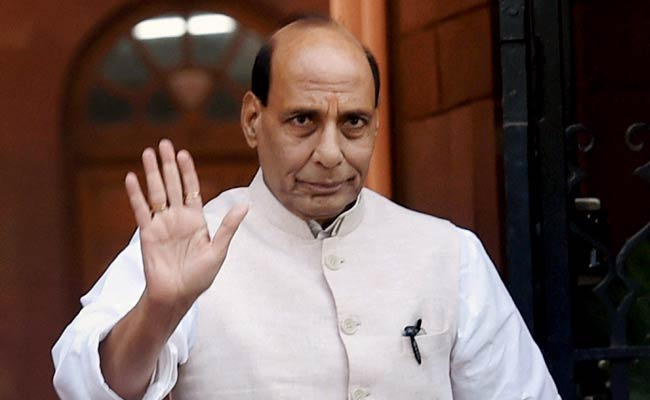 Highlights
Home Minister Rajnath Singh pledged to create a 'new India' by 2022
He also promised to seal the Indo-Bangladesh border by 2018
The Home Minister was addressing a programme called 'Sankalp se Siddhi'
NEW DELHI:
Home Minister Rajnath Singh is setting one tough goal after another for his government.
To his earlier target of sealing the country's borders by Bangladesh by mid-2018
, Mr Rajnath Singh added a few more on Friday.
Speaking at a programme on building a 'new India', the Home Minister declared that the government would, by 2022, find a solution to the Kashmir problem, terrorism,
naxalism and
insurgency in the Northeast, problems that have festered for more than five decades.
"There are a lot of problems - terrorism, naxalism, Kashmir problem. Much is not needed to be said about these problems. But I can assure you this much that by 2022, we have pledged to create a 'new India'... So a solution will be found to all these problems before 2022. We want to assure the countrymen on this," Mr Singh said, according to news agency Press Trust of India.
Mr Singh was addressing a programme "
Sankalp se Siddhi
(From pledge to accomplishment) - Celebrating the New India Movement" in the national capital. On the occasion, the news agency said, he also administered an oath to his audience for making India clean, poverty-free, corruption-free, terror-free, communalism-free and casteism-free.
The home minister then got down to set tough targets for the government.
"If people could take
(Quit India) pledge in 1942
and get freedom in 1947... then why can't we make a 'new India' after taking pledge in 2017 and realising it in 2022?" the minister said.
This isn't the first time that Rajnath Singh has laid down ambitious targets for the Home Ministry that he leads.
In December last year, Mr Singh had vowed to seal the Indo-Bangladesh border by mid-2018.
"We are committed to sealing the (remaining) 223.7-km Indo-Bangladesh border and the process is on. It is expected to be completed within the next year and a half," Mr Singh told BJP workers in Guwahati last year.
(With inputs from Press Trust of India)