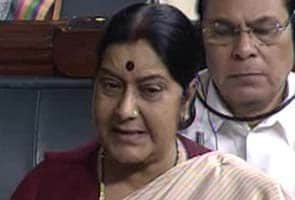 New Delhi:
An aggressive BJP has said that it will not disrupt the passing of four important Finance Bills, but emphasised that the UPA government can hereafter cease to expect any support from the main opposition party.
Leader of Opposition in the Lok Sabha Sushma Swaraj said this in Parliament. A few kilometres away the Supreme Court strongly censured the government over the CBI's report on coal investigations being vetted by Law minister Ashwani Kumar and other government officials.
Ms Swaraj slammed the Congress-led UPA government as "the most corrupt government since Independence." And said the blame for Parliament not functioning lay completely on it. "There is scam after scam, each breaking the record of the previous one... how can they call us irresponsible?" Ms Swaraj said.
The Prime Minister was not present in the Lok Sabha, but Congress president Sonia Gandhi was present as Ms Swaraj spoke.
The BJP-led Opposition has not allowed Parliament to function over several issues, including the coal controversy, since it reconvened for the Budget Session after a recess.
The party plans to walk out when the money bills - Demand for Grants (Railways), Demand for Grants (general), Appropriation Bill and the Finance Bill - are being passed in Parliament today.
The Manmohan Singh government is short on numbers in Parliament and depends not only on the external support of parties like Mulayam Singh Yadav's Samajwadi Party and Mayawati's BSP, but also the opposition, to push important legislation.
Get Breaking news, live coverage, and Latest News from India and around the world on NDTV.com. Catch all the Live TV action on NDTV 24x7 and NDTV India. Like us on Facebook or follow us on Twitter and Instagram for latest news and live news updates.