Meerut, Uttar Pradesh:
A couple was humiliated in Uttar Pradesh's Meerut by members of the Hindu Yuva Vahini, the right-wing group founded by Chief Minister Yogi Adityanath, and charged with public obscenity.
The police say yesterday, a group of women broke into a room that the couple - the young man a Muslim and the woman a Hindu - had reportedly taken from a friend, and dragged them to a police station, where the Hindu Yuva Vahini allegedly arrived and forced a criminal case. The pair was allegedly also beaten up.
Though the man and woman were inside a room in a private building, they were charged with "obscenity in a public place". The man was arrested and let off.
In a video, the couple is bombarded with questions such as these - "Where are you from? What are you doing here? Name your baap (father). What is your brother's name? Sister's name?"
When the young man answers these questions, he is asked- "Why are your family's names different from yours? Have you converted?"
The video was allegedly filmed by residents before the couple was taken to the police.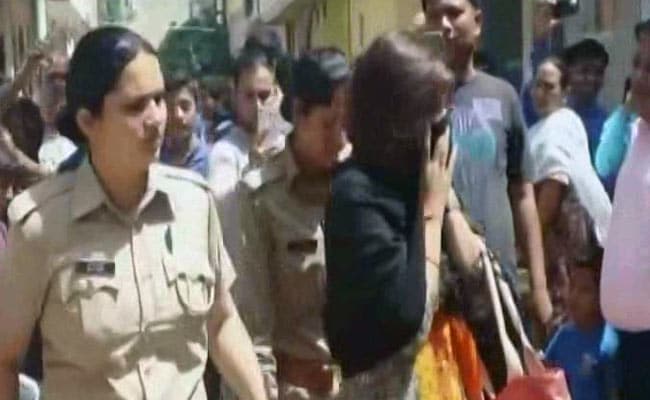 The young woman was seen covering her face while being led away by policewomen through the neighbourhood, where Hindu Yuva Vahini flags were seen on many rooftops.
The group claims it intervened because there were complaints of a "prostitution racket".
"The two were found in a compromising state. These rooms are rented out for suspicious activities," alleged Nagendra Pratap Singh, who led the group.
"Those who rent the rooms and those who own them should be verified by the police," he demanded.
Yogi Adityanath, who set up the Hindu Yuva Vahini in 2001, describes it as a "cultural organization".
The group has been accused of moral policing and harassment of couple. It is also at the forefront of religious conversions that its activists described as "Gharwapasi" or homecoming.
Though the 44-year-old Chief Minister has distanced himself from the group now, one of his first moves after taking power was to order anti-Romeo squads of the police, a poll promise aimed at protecting women from harassment. The drive became controversial as the teams were accused of shaming couples in public places.