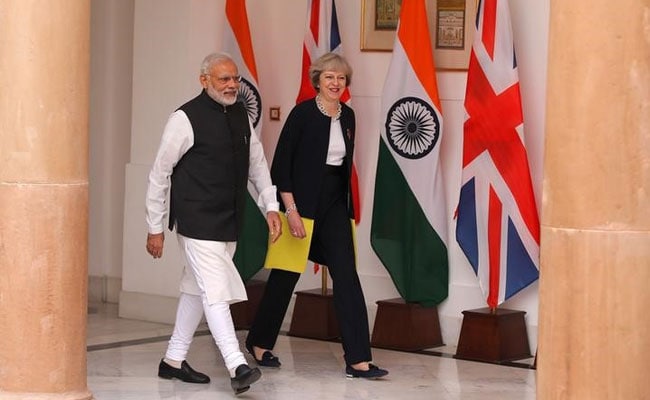 Highlights
British premier Theresa May seeks more trade with India
India wants more visas for students and skilled workers
UK pledges easier and faster visas for business, but not students
New Delhi:
UK Prime Minister Theresa May said in Delhi today that Britain will become the ultimate free trade champion as she laid the groundwork Monday for a potential post-Brexit deal with India, the world's fastest growing major economy.
Here are the 10 latest developments in this story:
Although Britain cannot sign any bilateral trade deals until it has left the European Union - most likely in 2019 - Ms May is indicating a desire to get the ball rolling as early as possible. "Identifying ... (areas of common interest) does not need to wait for us to leave the European Union," she told a group of industrialists today.

But with the Indian government keen to secure more access to Britain for students and skilled workers, visa numbers are likely to be a sticking point in any talks. Ms May promised to ease access for Indian business travellers.

But she also stressed that while the UK could be more flexible in offering visas to Indians, there is a need to step up the pace of returning those who are staying on illegally.

Britain's need to cut deals quickly once it leaves the EU gives PM Modi added bargaining power for a potentially huge market.

Ms May, who said she wants Britain to be a global leader in free trade, has said she plans to use the visit to try to reduce barriers to trade with India and pave the way for a post-Brexit free-trade deal.

While the benefits of a deal to Britain are evident, sealing one will be no easy task. India still has a rigorous regime of tariffs and red tape which have traditionally made it one of the most complex places to do business. Also, bilateral trade is relatively low - $14 billion last year, smaller than the volume of trade between India and Germany.

There is particular unhappiness in Delhi over visa restrictions on students wanting to stay on in Britain after completing university courses which have led to a 50 percent drop in Indians enrolling.

Ms May however said Britain already gives Indians special status by letting them apply for same-day visas and planned a new "registered travellers fee" allowing Indian businesspersons to be fast-tracked through customs.

Accompanied by a delegation of around three dozen business leaders, Ms May arrived in smog-thick Delhi late last night and will travel to the tech hub of Bengaluru tomorrow.

Prime Minister Narendra Modi said it was vital that India and Britain work together to define the knowledge economy of the 21st century, and invited UK partners to get involved in his signature policy initiatives such as his plan to develop 100 "smart" cities. He also called for "greater mobility and participation of young people in educational and research opportunities" - an apparent reference to the sharp fall in the number of Indian nationals studying in Britain since 2010.