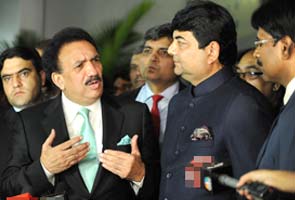 New Delhi:
Pakistan's Interior Minister Rehman Malik began his visit to New Delhi on a controversial note by alluding to the demolition of Babrji Masjid. He said in Delhi today, "We do not want any 9/11, 26/11, any Samjhauta Express blast or any Babri Masjid demolition."
Mr Malik is in India as both countries introduce a new visa system that will make cross-border travel easier for businesspeople, tourists and religious pilgrims.
But the talks with Mr Malik will focus extensively on the 26/11 attacks in Mumbai in which 166 people were killed in 2008. Though Mr Malik vowed that Pakistan is determined to punish those who masterminded the attack, India's Home Minister Sushil Kumar Shinde said, "I am happy that you assure us that you will do everything to bring the masterminds of 26/11 to justice, but Pakistan has failed to deliver."
A major point of dispute is Pakistan's lack of action against Hafiz Saeed, chief of the Jamaat-ud-Dawa, for whom the US offered a $10 million reward this year. India says he is the mastermind of the Mumbai attacks; Pakistan says no evidence has been furnished to prove this. "We have no love lost for Hafiz Saeed. If I got the information today before I leave from here, I will order his arrest," the Pakistani minister said.
Pakistani authorities arrested Saeed three times, but the courts found him innocent and freed him each time, Mr Malik said.
Mr Malik is in India for a three-day visit. His arrival was delayed because the Indian Air Force denied permission to his military plane to land at the Palam Technical Airport for technical reasons. The minister's plane then landed at Delhi's T-3 international airport.