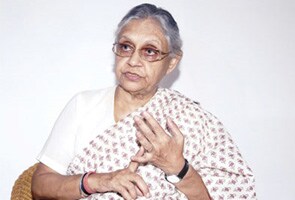 New Delhi:
An expose by Tehelka and NDTV on the insensitive remarks made by policemen in and around Delhi, blaming women for 'provoking' rape, has even the Chief Minister worried. (
In Delhi, cops blame rapes on victims: Tehelka investigation with NDTV
)
"If you have brought this out it's very good. We are all scared, we are all worried about this atmosphere where women do not feel safe. This has to change. Our govt makes it mandatory that all women who work after 8 pm should be dropped home by their employer. I have not seen those tapes myself, but I will watch it and talk to the Police Commissioner myself," Delhi Chief Minister Sheila Dikshit told NDTV.
There is already national outrage on the issue. "It is sad to hear the character assassination of rape victims by some police officers in Delhi. This mindset has to change!" tweeted actor Farhan Akhtar. "Delhi has become Rape capital due to the misogynist mindset of Delhi Police. Hope expose awakens the nation before it's late," said another tweet by Karthikeyan.
"Glad I did not get to see the Policing Rape prog on ndtv. Wud have smashed my tv! Do these cops have daughters??!!" tweeted Nalini Rathnam.
In a two-week long investigation, 30 cops in Delhi and its suburbs were caught on hidden camera in a sting operation that exposes the utter insensitivity of the policemen as they are caught making remarks on a number of cases like the recent gangrape of a teenager in Noida, and the Gurgaon pub rape case in March where the woman was dragged out of her cab and raped by six men.
Reacting to the expose, the Delhi Police said it does not endorse the remarks and action will be taken if such loose comments have been made.
"Delhi Police has strong institutionalised mechanism of dealing with women victims. We always ensure that a senior officer, especially women officers, interact with them. For minor victims we have trained juvenile welfare officers. We have women help desk in each police station and whenever any victim comes they are handled with a lot of sensitivity. In any case, as seen in the footage, anyone giving any loose remarks as already committed by Commissioner we will take strong action against them," said Rajan Bhagat, spokesperson, Delhi Police.
The keepers of law - caught on secret camera - believe it's a woman's behaviour that is a prime reason and if it were not for "provocation" from her end, rapes wouldn't happen.
"Go to a pub in Greater Kailash, South Delhi, where there's free entry for girls. You'll find those who want to do 'it' for a thousand rupees. They'll drink and also have sex with you. But the day someone uses it, it's rape," said Sunil Kumar, SHO, Ghazipur, Delhi-NCR.
And there was yet another shocker - ethnic bias against those from the Northeast. "Girls from Darjeeling and Nepal have come here for business purposes. They go with men for money. Later, when the money is not sufficient, it becomes a rape," said Rajpal Yadav, Additional SHO of Sector 29, Gurgaon.
One of the cops, investigating the case of a teenaged girl from Noida who was gangraped in a moving car in February this year, said a girl who gets into a car with 10 boys can never be innocent and she should have known the consequences of drinking with boys. He didn't even spare her mother.
"The girl's mother is divorced. She's living with another man from the Yadav community. She's 48 whereas the man is 28. Now when two young girls watch their 48-year-old mother sleeping with a 28-year-old man, even they'll be aroused. Sex is like hunger," said Ram Kumar Malik, Sub-inspector, Noida Police.
The victim's mother, however, slammed the police. "They purposely brought my case in the public eye, they took money from the boy's family a long time back. I would like to make it very clear that I really ridicule this. We belong to a middle class family. It took a lot of courage for me to go and get a report written and I did so, so that I get justice and the boy gets punished and other women don't face the same fate. But the police, instead of helping me, got together with the accused and took money from them and are now putting the blame on my daughter. If we wanted money why would have we gone to the police? We would have talked to the accused family. We are living in hiding because we are scared. But I will keep fighting for this till my last breath, no matter what the outcome is. I will not back out. I have my doubts on the role that the police will play."
Given that these extremely disturbing attitudes exist in agencies that are meant for the protection of harassed women, it comes as little surprise that rapes continue unabated. While the men in uniform have a spectrum of reasons to rationalise rise in rape occurrence, there is little acknowledgment of the fact that perhaps better policing and instilling a fear of the law among the perpetrators could make women feel that much safer.