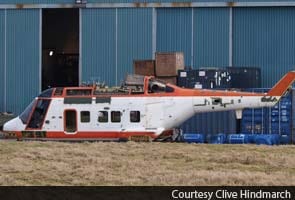 New Delhi:
If you thought the Rs 4000-crore scam for VVIP choppers was astounding, you may find incredulous the methods that defence firm Finmeccanica and middlemen employed to get the Indian contract.
The Italian investigators' report into the helicopter scam details how Finmeccanica tried to find a way to justify the payment of bribes and the signing of a contract with middlemen, something which is illegal in Italy as in India. AgustaWestland (AW) is a subsidiary of Finmeccanica.
One of the alleged middlemen used to route kickbacks to India was UK national Christian Michel.
Italian investigators say his company, Global Trade and Commerce, was paid more than 18 million euros or Rs 130 crores by AgustaWestland to buy back 19 Pawan Hans helicopters that it had sold to India in the 80s.
Italian prosecutors say the deal between AW and Mr Michel appears to have been fake. Especially because the helicopters remain in India at the Mumbai airport even today, as corroborated by photos accessed by NDTV. And the value of the helicopters in 2000 had been fixed at just 900,000 pounds in a deal India had struck with a British company, which eventually collapsed.
In the 1980s, the British government, keen to save AW helicopters from closure, had persuaded India to buy 21 Westland WG30 helicopters using a British aid grant of 65 million pounds.
Despite the advise of aviation experts, India agreed to go ahead with the purchase but soon enough, the helicopters were found entirely unsuitable for operations in the country. Two of the choppers crashed. 10 people were killed. The entire fleet of helicopters was grounded in 1991.
19 surviving WG-30s were sold to a British company, AES, the only company willing to purchase the choppers for 900,000 pounds. However, the deal could never be completed since the British Civil Aviation Authority cancelled the airworthiness certificate for these helicopters, making them unsellable. AES never took delivery of the remaining choppers and never paid Pawan Hans the money that it owed the government entity.
But AW transferred 18 million euros to Mr Michel for the same helicopters which are yet to leave India.