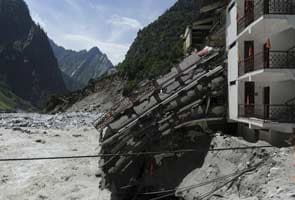 Govindghat:
Hundreds of flies buzzed busily around uncollected garbage strewn along the main road. Home and shop owners seemed to have had just enough time to lock their homes and leave their town in an eerie silence. The ground under the helipad - belonging to a company that ferried rich pilgrims to Hemkund Sahib and right near the banks of the Alaknanda - had swept away.
The smell of death and destruction is nauseating enough to send us in a tizzy. Govindghat is now a ghost town.
Travelling from Dehradun to Joshimath, the carnage the flash floods had caused in several parts of Uttarakhand was obvious to us. The river had changed its course dramatically at many places, gobbling all that came in its way. Homes, guest houses, roads, vehicles, dams and people, nothing was spared.
But the destruction at Govindghat was altogether at another level. Gut-wrenching and almost unbelievable. The road leading to the town abruptly ended into open space as nearly 500 metres had vanished along with a large chunk of the mountain side.
"There were lodges and shops all along the road. In a moment they disappeared into the angry waters. Nothing much also remains of the Gurudwara," Mushtaq Mohammed, a khachchar (mule owner) and local tells us shooing away flies that irritate him. "There was also a car park with over 200 vehicles. They now belong to the river."
There were no remains of these vehicles anywhere. No one had any idea as to how many drivers and locals had been killed here. But what remains here are multi-storeyed hotels that collapsed, one floor sandwiched on another. And concrete pillars that once supported a happy structure, lie in the muddy river waters.
"These hotels were at least 30 feet above the river level. The water rose by another 20 feet. So that's a total of 50 feet of extra water moving at a very high speed. Forget me, no one has ever seen something like this," Mushtaq continued.
Govindghat is the last common halt for pilgrims heading to Badrinath and Hemkund Sahib. But it is more important for Sikhs as this is where the motorable road end to Hemkund ends. Pilgrims then have to walk 18 km or hop on a mule.
"But where are the mules?" I ask a few locals who had gathered around. The word "mule" is enough to provoke anger. "On the other side of the mountain!" one of them screams. "The footbridge was swept away. The army rescued pilgrims and villagers along a rope way. But then can't our mules be rescued?"
What they don't understand is the logistical difficulty of such an exercise. But their demand is certainly legitimate as their livelihoods depend on these animals. "They need food. There are about 700 mules just across the river and they are all waiting to cross over. Two have died. Plus they have eaten all the grass that's around. What do we feed them?" one of them asked claiming no "rations" had been supplied by the government for the mules.
As we leave Govindghat, Anjay Joshi, a young man who works with the Animal Husbandry Department, summed up the town's past and future with these words, "
Govindghat mein raunaq thi. Lakhon log yatra ke liye yahaan se guzarte the. Jai jaikaar ke naare se Govindghat goonjata tha. Ab sirf sannata hai. Yeh repair karna bhi bahot mushkil hai
(Govindghat was once bustling with life. Lakhs of pilgrims used to pass through this town for the yatra and the air resonated with their chants. But now, there's an eerie silence, something that will be difficult to repair)."