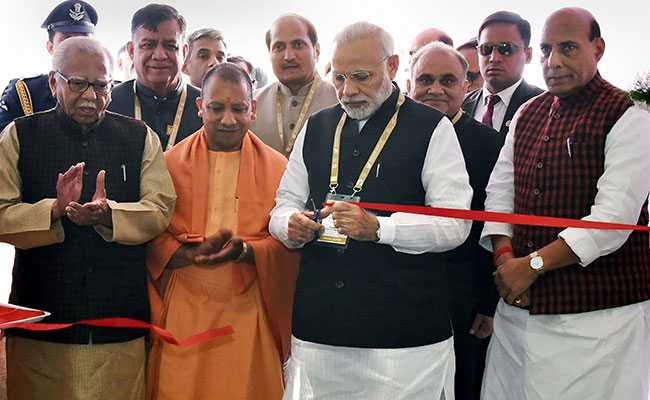 New Delhi:
Lucknow is hosting two-day Uttar Pradesh Investors' Summit that begins today. The Summit is aimed at showcasing the investment opportunities and potential in the various sectors of Uttar Pradesh. The UP Investors' Summit is being attended by around 5,000 people, including industry leaders from India and abroad, chief ministers, union ministers, policy makers and academicians. A total of 30 sessions have been planned for the two-day summit which is being held at Indira Gandhi Pratishthan in Lucknow's Gomti Nagar. Uttar Pradesh Chief Minister Yogi Adityanath has been personally overseeing the preparations for the Uttar Pradesh Investors' Summit. More than 700 Memorandums of Understanding (MoUs) have been finalised, he said. Prime Minister Narendra Modi, who is attending the Summit, tweeted that under Chief Minister Yogi Adityanath's leadership, "the state's progress journey has got a strong impetus."
Will be in Lucknow today, to take part in the UP Investors Summit, which will showcase the rich potential of UP to attract top quality investment. Under CM @myogiadityanath Ji, the state's progress journey has got a strong impetus. @InvestInUp

- Narendra Modi (@narendramodi) February 21, 2018

Here are the highlights of the Uttar Pradesh Investors' Summit 2018:

1. A tri-lingual robot is one of the prime attractions of the event. The robot, who is fluent in Hindi, English and Sanskrit, is being used to welcome the guests at the event.

2. The Summit is being attended by central ministers Rajnath Singh, Nirmala Sitharaman, Ravi Shankar Prasad, Smriti Irani, Piyush Goyal, Dharmendra Pradhan, Nitin Gadkari, Suresh Prabhu, Harshvardhan among others.

3. The focus sectors of the UP Investors' Summit are civil aviation, dairy, electronics manufacturing, tourism, renewable energy, film, handloom and textile, agro and food processing, IT and Micro, Small and Medium Enterprises (MSMEs).

4. Industry leaders including Gautam Adani, Mukesh Ambani, Subhash Chandra, N Chandrashekharan, Anand Mahindra, Kumar Mangalam Birla, Subhash Chandra and Shobana Kamineni are scheduled to speak during various sessions.

5. Business leaders from Mauritius, Japan, The Netherlands, Finland, Czech Republic, Thailand and Slovakia will participate in the Yogi Adityanath's flagship event.