Kolkata:
Highlights
Clashes erupted in Kolkata after a bus ran over 2 college students
Police had to use teargas on stone throwing mobs
3 buses set on fire; fire engines stoned too
In Kolkata, police had to use teargas on stone throwing mobs that went on the rampage, setting at least three buses on fire on the Eastern Metropolitan Bypass after one of them ran over two first year college students at Chingrighata. The two victims, who died on the spot, were residents of areas adjacent to the bypass and locals poured onto the arterial road, setting fire to buses, stoning cars and the police force that had rushed to the spot.
Just after the incident, the police allegedly resorted to a lathicharge that enraged the crowd further, the stone throwing intensified. When fire engines tried to reach the spot to put out the flames, those were stoned too.
At least three hours after the incident, with the situation spinning out of control, the police started a "push back" of the angry crowds into the Shantinagar 'bustee' adjacent to the bypass. But as stone pelting continued, police fired teargas shells. Several police personnel were reportedly injured in the brick-batting from rooftops and from the roads.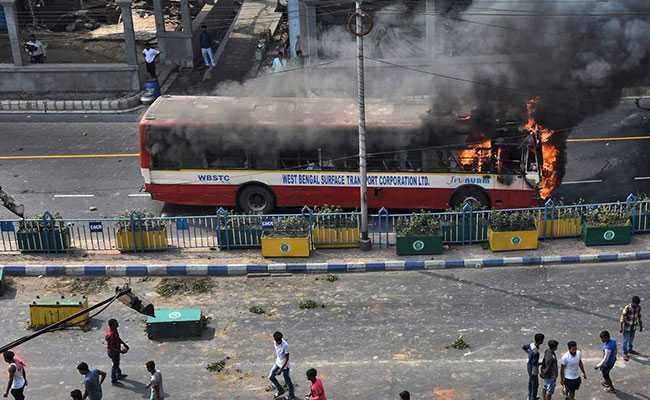 The two dead youth are Biswajit Bhuiyan and Sanjay Banu who were apparently crossing the road to go to a shop to buy some sweets. Biswajit's father was incoherent, mother in shock and Sanjay parents rushed to hospital where the two youth were taken.
The local MLA Sujit Bose rushed to the spot. "It was an unfortunate accident but I urge people to remain calm," he said. But his appeal did not work, at least not initially. "We want the chief minster to come," some locals said. "She went to Murshidabad which is far away. Why can't she come here which is quite close to her house?"
Earlier this week, 44 people died when a bus crashed through the railing of a bridge in Murshidabad district and fell into a canal. Mamata Banerjee had taken a helicopter to the spot. Also, the chief minister has been campaigning for safer roads with the slogan 'safe drive, save life'. But accidents are routine.
On the bypass, from about 11 am, traffic came to a halt for several hours on the road that links extreme south Kolkata to the airport via upmarket Salt Lake, Rajarhat and Newtown.
Angry locals ransacked private cars and taxis. Their anger directed at the police which has a major traffic control office virtually on the spot. The Chingrighata flyover linking the bypass to the road to Salt Lake was inaccessible, traffic from Salt Lake to the south was also blocked.
People were forced to get off stranded transport and walk to their destinations. Some of the people walking were headed to offices in the IT Park in Salt Lake Sector V. Others were on the way to the Kolkata Book Fair which is being held in Salt Lake this year.