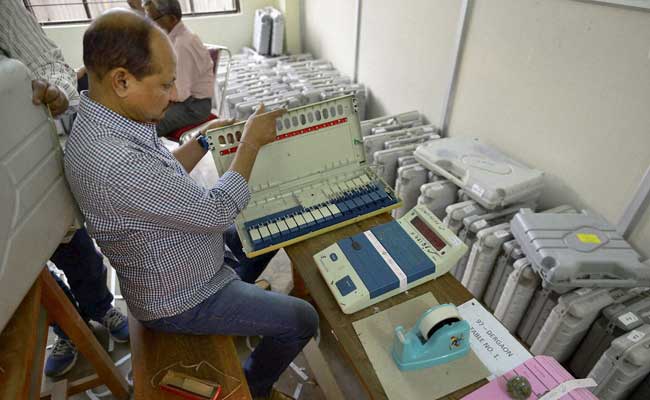 New Delhi: Responses to a series of Right to Information requests have thrown up multiple red flags in the Election Commission's acquisition and use of EVMs or Electronic Voting Machines. From huge inconsistencies in the records of the machines acquired by the poll body to mysterious gaps in transportation logs and inexplicable revisions in the specifications of the units, information requests filed by a Mumbai-based RTI activist Manoranjan S Roy have presented a deeply worrying picture of the critical election instrument India has relied upon for nearly three decades.
Here is your 10-point guide to this big story:
EVMs have been used in India since 1989. They comprise of a Balloting Unit or BU and a Control Unit and CU, and recently, Voter Verifiable Paper Audit Trail or VVPAT. These are currently manufactured by only two state-run companies - Electronics Corp of India Ltd or ECIL in Hyderabad and Bharat Electronics Ltd or BEL in Bengaluru.
Mr Roy's queries revealed that from 1989-90 till May 15, 2017, the Election Commission purchased over 10 lakh BUs and 9.28 lakh CUs from BEL, and another 10.14 lakh BUs and 9.34 lakh CUs from ECIL. A query to the Law Ministry, however, showed that the government in 2016-17 had received information about the purchase of 13.95 lakh BUs and 9.3 lakh CUs.
According to Mr Roy, against the figures provided by the Election Commission on the number of EVMs received, BEL and ECIL have submitted data with huge differences, at times ranging from several thousands to lakhs of EVMs.
On the questions of payments too, major discrepancies came out in the figures from 2006-07 to 2016-17. Against the Election Commission's "actual expenditure" of about Rs 536 crore on voting machines, the BEL reply said it received from body a payment of around Rs 652 crore - a difference of over Rs 116 crore.
The queries also presented irregularities in the transportation if the EVMs. "In many instances, the transportation details are at complete variance with the purported capacity of the trucks vis-a-vis the EVM dimensions and the carrying load of the containers that are disclosed," Mr Roy said.
"According to the standard calculations, a 32x8x8 feet container can accommodate 199 BUs or 261 CUs, and a 20x8x8 feet container can take 124 BUs or 163 CUs, but BEL says it has dispatched between 320 to 400 units per container. Were extra machines dispatched to EC? If so, what happened to them," asked Mr Roy.
Even on the question of voter and candidates capacity of the voting machines, the figures provided point to seemingly random decisions by the manufacturers. "Between 1989 and 2000, the ECIL EVMs capacity was 64 candidates and voter capacity 3,902. It was modified in 2014-15 to accept 384 candidates but only for 2,000 voters. In 2014-15, its EVM's capacity was for 60 candidates and 8,000 voters. But the capacity of VVPAT EVMs was a mere 1,500 voters," said Mr Roy.
BEL, meanwhile, in its reply said that till 2005 its machines had a capacity of 3,824 voters which was later reduced to 2,000 from 2006. At present, their units have the capacity for only 16 candidates.
Mr Roy has filed a petition in the Bombay High Court, seeking directions to all stakeholders to provide records and documents related to voting machines and setting up of a suitable investigation panel, and ban the use of EVMs till the probe concludes.
The use of EVMs has been questioned in recent times by a number of opposition parties that have alleged large-scale rigging in assembly elections in the last two years. Concerns over voting machines peaked last year after polls in Uttar Pradesh and Punjab.
(With inputs from IANS)