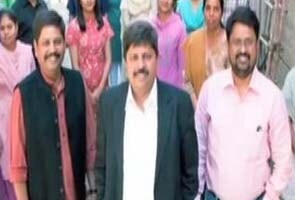 Washington, D.C.:
Three Indian brothers, Ravi, Rishi, and Nishi Kant have received the prestigious Vital Voices Global leadership award from Vice President Joe Biden in the US. The award recognises their effort to end violence against women and was presented to them at Vital Voices' annual ceremony at the Kennedy Center in Washington, D.C. earlier this week.
The trio began an NGO Shakti Vahini in 2001 to fight injustice against women. Over the past decade, Shakti Vahini has helped more than 2,000 people, 70 per cent of them were children. It has also responded to calls for help more than 600 victims of honour killings.
Mr Ravi Kant, a Supreme Court advocate in India, leads a staff of 45, and believes they are witnessing a sea change, not only for victims of violent rapes, but also for victims of human trafficking since the savage and fatal gang-rape of a 23-year-old woman on a moving bus in Delhi in December last year. Speaking to NDTV, Mr Kant said, "The mass public uprising that followed the gang-rape of a medical student in Delhi last December was a turning point, as it led to laws regarding sexual assault and violence against women -- pending for the past 20 years - were finally passed."
Vital Voices, which was started by former first lady and Secretary of State Hillary Clinton in 1997, upholds Shakti Vahini as a glowing example of how a group of men can and should work on women's issues. It is also holding Shakti Vahini up as a model NGO, one that addresses legal, advocacy and rescue missions simultaneously.
Explaining his organisation's activities, Mr Kant said, "Our parents were the guiding lights in setting up this organisation to combat violence against women. We work with law enforcement agencies to tackle human trafficking and honour crimes. We are also involved in sensitising and training law enforcement agencies."