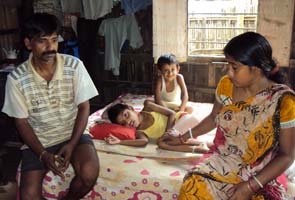 Agartala:
Seven year-old Ayesha Gope has been confined to a bed since she was born. Doctors say she is inching towards her death. Her family is helpless.
Ayesha suffers from a rare congenital medical condition - Meningoencephalocele - that causes her brain matter to puff out from the cavity of the skull. The disease restricts the development of the skull, and accumulates fluid in it. It affects one in every 5000 newborn babies.
Ayesha's father Dilip Gope is a marginal sewing worker in Durganagar in Tripura and earns a few thousand rupees a month. He says that local doctors are unable to improve her condition, and he does not have the financial means to take her to a better medical facility outside their hometown.
"The poor die like that, and we have accepted that. Even if we do not want to agree, what can we do?" asks Ayesha's mother Nisha Gope, who works as a domestic help.
The best medical facility in Tripura, Agartala Government Medical College, is about 70 kilometers away. Ayesha's family says they cannot even afford the Rs 800 taxi fare.
Dr Pranabesh Chakraborty, a physician monitoring Ayesha, said, "It's already late, but there is a good chance for her to survive if the surgery is done immediately."
"The surgical procedure involves draining out the fluid first, and then scaling down the size of the tumor to the possible extent, and may be fitting a shunt. But all these are series of actions to be performed over a period of time after rigorous examinations, and need specialist neuro-surgical care. The baby is required to spend a long period admitted in hospital. That kind of hospital or doctor is not available in Tripura," Dr Chakraborty added.
Doctors at the Agartala Government Medical College have advised the family to go to the Christian Medical College in Vellore in Tamil Nadu. Physicians, however, say a single trip there is likely to cost at least Rs 6 lakh.
If you wish to help Ayesha, please send your donations to:
Bank account No: 33308857043
Name of the bank : State Bank of India
Name of account holder: Dilip Gope
Branch: Khowai, Tripura, India-799201
IFSC code: SBIN0005591
MCIR Code: 799002512
Branch Code: 005591
City: Khowai
Address: Tripura, Zip: 799201
Bank Contact : 03825-222273, 222237
OR
Bank account No: 1197010135375
Name of Bank: United Bank of India
Branch: Bachaibari, Khowai, Tripura, India-799201
IFSC code: UBIOBAE13
Note:
This information has been provided/published on a good faith basis, without any commercial motive. NDTV does not vouch for the authenticity of the claims made by the intending done, nor can we guarantee that the donations made by a donor will be used for the purpose as stated by the intending donee. You are requested to independently verify the contact information and other details before making a donation. NDTV and/or its employees will not be responsible for the same.