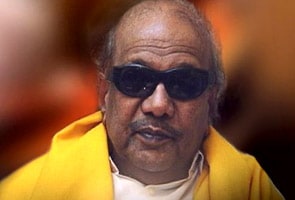 Chennai:
Loyalty to the leader of a political party knows no bounds, going by what a DMK activist has done. The Vellore District panchayat counsellor, G R Krishnamurthy is building a temple in honour of party president and Tamil Nadu Chief Minister M Karunanidhi, a self-proclaimed atheist.
"The temple is almost in the finishing stages in five cents of land I own at Samireddipalli near Gudiyatham at a cost of about Rs two lakh", said G R Krishnamurthy. He said the temple; with a two-and-a-half foot idol of "Kalaignar", would be opened to the public soon after the laying of tiles was completed.
Krishnamurthy said he was inspired to build the temple after seeing how welfare schemes brought out by his leader, especially 'Kalaingar Kappitu Thitam (free insurance scheme for poor) had helped many downtrodden families in his area.
"All those who benefited from this scheme suggested I construct a temple for Kalaingar (Karunanidhi), prompting me to undertake the task," he added.
"Though our leader is an atheist, we accept him as our 'God' as he has saved the lives of thousands of poor, not only from my region but also throughout the state through the free insurance scheme," Krishnamurthy said.
"It has been constructed for us to worship him. I don't think our thaliavar (leader) will oppose to it", he replied when asked if the Chief Minister would oppose hismove.
He said the temple has huge pillars with photographs of Deputy Chief Minister M K Stalin and state Law Minister Durai Murugan.
"Apart from this, a small park is also being set up near the temple for children", he said, adding, he also plans to set up a library to showcase Karunanidhi's literary work in Tamil.
He also said that the temple, with the symbol of the rising sun (DMK party symbol), has an inscription saying "God will give only if you ask, but Kalaignar will give you without being asked".