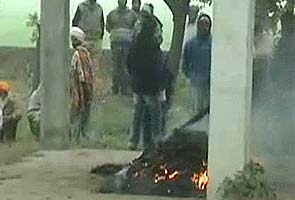 Patiala:
A 17-year-old in Patiala who had been gang-raped earlier this month committed suicide this week because the police allegedly embarrassed her and refused to register a case for over a month.
"The police started pressuring her to either reach a financial settlement with her attackers or marry one of them," her sister has said. A video of the victim sharing details of her assault has been accessed by TV channels.
The police's inaction and the humiliation the teen was subjected to has been accepted by senior cops. Director General of Police Sumaid Singh Saini said, "The case was handled in the most unprofessional manner. Facts were concealed from senior officers. A probe has been ordered into the lapses and action will be taken. We had sent advisories that utmost sensitivity needs to be shown in cases of crimes against women, children and the elderly."
The Punjab High Court today ordered the police to submit a detailed report on the case and identify what action has been taken against those responsible for the teen's trauma.
Inspector General Paramjit Singh Gill said that the teenager had been "running from pillar to post to get her case registered" but officers failed to open a formal inquiry. "One of the officers tried to convince her to withdraw the case," Mr Gill, the police chief for the Patiala area, said. Two police officers have been dismissed for dereliction of duty; a third has been suspended.
Before the teen's death, there had been no arrests over her case although three people were arrested on Thursday. Two of them were her alleged male attackers and the third was a woman accomplice.
A week after she was assaulted on Diwali, the teen shared her ordeal on camera with reporters.
"Two boys kidnapped me," she said. "I made a lot of noise but nobody heard me. There was a woman there who I asked for help, but instead of helping me, she helped them. They told me that if I tell anyone about this, they will kill me, and harm my family. So I didn't say anything."
On Wednesday night, she was found dead at home after she drank poison.
Since a medical student in Delhi was gang-raped on a bus on December 16, students and women activists have been holding near-daily protests, demanding a slew of changes to check sexual crimes against women.
Activists and experts also point out how inept and insensitive police officers are when handling rape victims; sensitisation and training are urgently needed, they say, to ensure women who have the courage to report sexual assault are not further traumatised by police officers.
(With inputs from agencies)