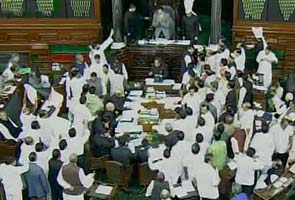 New Delhi:
"School children are watching you".
This is how Rajya Sabha Deputy Chairman K Rehman Khan today appealed to Opposition members to restore order in the House which witnessed uproar over the 2G spectrum issue for 21 days.
Dressed in black suits, students from the Government Law College, Mumbai were watching the proceedings from the visitors' gallery when Opposition members were raising slogan demanding JPC probe into the 2G spectrum scam.
"We want JPC...." BJP, AIADMK and TDP members chanted in chorus.
As Opposition members did not relent despite Khan's pleas for order, the House was adjourned till 1430 hours.
Outside the House, when a reporter asked the students if they were disappointed, one of them answered, "We were rather amused."