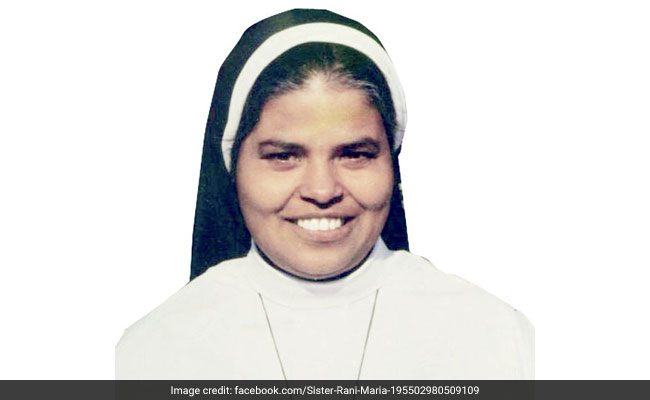 Indore/Kochi:
Sister Rani Maria, a nun from Kerala who lost her life while serving the poor, was beatified at a ceremony in Indore on Saturday.
During the ceremony, the archbishop of Indore Chacko Thottumarikkal said that in Catholic Church, there are four steps for a person to be declared a saint and beatification is the third step.
Soon after the announcement of her beatification, celebrations broke out at her village near Kochi with the bursting of firecrackers and distributing of sweets.
Sister Rani Maria was born in Kochi in 1954 and after becoming a nun joined the Franciscan Clarist Congregation for missionary work. She mostly worked in North India for her congregation.
On February 25, 1995, she was dragged out of a bus near Indore and stabbed to death by one Samundar Singh, who is alleged to have been hired by moneylenders, as their business got affected following the work by Sister Rani Maria among the women by creating self-help groups.
In 2006 her family pardoned Singh and he was left free.
Later he came to the village of Sister Rani Maria and met her family members who forgave him for the murder.
The Catholic Church decided to go forward with her canonisation. The process for it began when the Vatican gave the nod in 2003.
In 2005 she was declared as 'Servant of God' and in March this year the orders came for her beatification.
From today onwards she will be known as Blessed Sister Maria, which is one step below Sainthood.