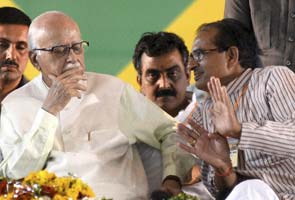 Bhopal:
Shivraj Singh Chouhan, who is touring his state Madhya Pradesh in a bus fashioned into a rath, seems unperturbed about the feathers he might have ruffled by not featuring Narendra Modi on posters as he set off on his yatra this weekend.
Mr Modi, the MP Chief Minister said today, is expected in state capital Bhopal along with other big party leaders, when the 50-day yatra returns in September. "We need not trouble national leaders for everything; for events like this small leaders like me are enough," he added.
In all the humility, however, Mr Chouhan could not resist a dig at the Gujarat Chief Minister, saying, "The Modi poster controversy is unnecessary, you know I take other leaders along with me."
That seemed to allude to the criticism that Mr Modi is not a team player. As the BJP's election campaign chief, he has recently been advised by the RSS, the BJP's ideological mentor, to ensure that the party's campaign for the 2014 general elections reflects collective leadership rather than becoming a one-man show.
Yesterday, the rebellious BJP MP Shatrughan Singh said that other senior leaders in the party must be projected too as the party gets battle-ready.
At the launch of Mr Chouhan's yatra, posters showcased BJP president Rajnath Singh, former prime minister Atal Bihari Vajpayee and senior leader LK Advani. Even senior leader Sushma Swaraj was featured, but not Mr Modi, who heads the party's campaign not just for the next general elections but also for assembly elections in four states, including Madhya Pradesh, later this year.
Mr Chouhan, who hopes to win a third straight term, has been often projected by Mr Modi's rivals within the BJP to counter the latter's claim to being the most efficient and successful administrator among the party's chief ministers. Mr Advani has often drawn a comparison between the two, praising Mr Chouhan's achievements in developing his state as more significant than the growth story that Mr Modi has scripted in Gujarat.
Mr Chouhan has not sought to play down the internal rivalry. As he prepares for assembly elections, Mr Chouhan, for long an understated politician, has in recent times even taken to tweeting prolifically about his government's successes much like Mr Modi does.