Mumbai:
Highlights
Maharashtra Chief Minister signals truce with bickering ally Shiv Sena
Sena, BJP will unite against "so-called secular" forces, says Mr Fadnavis
Says if Sena fought 2014 state poll with BJP, it would be senior partner
Swallowing down a torrent of pointy questions and
a world of insult spread over the last many months
, Maharashtra Chief Minister Devendra Fadnavis on Tuesday sounded a conspicuously conciliatory tone for its perennially-sulking ally Shiv Sena as he said that he expected the party to join the BJP to fight "so-called secular forces" ahead of the 2019 elections.
"The Shiv Sena will always function on the ideals of Balasaheb Thackeray. Whenever the so-called secular forces come together, those who believe all religions are equal, and the Hindutva forces have had to come together and I know that when this situation comes, the party that works on the principles of Balasaheb Thackeray will not step away," Mr Fadnavis said at an event organised by the Lokmat group of newspapers.
That the telling statement came in response to unrestrained grilling by Sena's vocal BJP-baiter Sanjay Raut amplified its significance.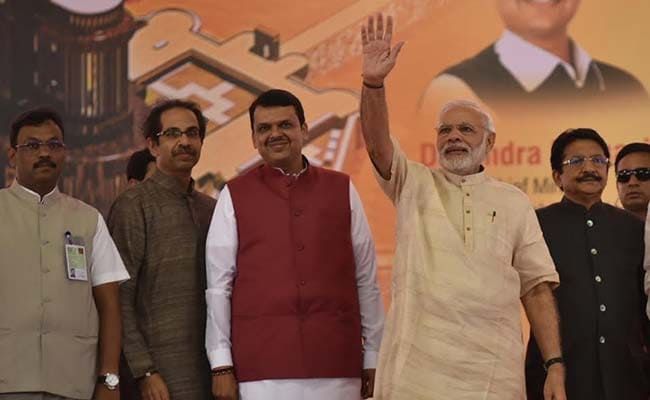 When Mr Raut asked the 47-year-old Chief Minister why the BJP broke the alliance with Balasaheb's party in 2014 before the assembly elections, Devendra Fadnavis said, "We had offered you 147 seats, but you were adamant on 151. Had you accepted our offer, the Sena would have got more seats than the BJP (in ensuing Assembly polls), and either Uddhav-
ji
or you would have become the Chief Minister."
The BJP had decided to go solo before the 2014 state elections, ending a 25-year-old alliance with the Shiv Sena over a seat-sharing disagreement. But the Sena offered its support to the BJP when the latter came out as the largest party, short of a majority in the 288-member assembly by just about two dozen seats.
Mr Raut, who authors many of the scathing editorials in the Sena mouthpiece Saamna criticising the BJP, too was much softer in tone but not with the questions he had for Mr Fadnavis. When Balasaheb Thackeray, the Shiv Sena founder, was alive, he held the "remote control" of the Sena-BJP government, Mr Raut said, asking Mr Fadnavis who held similar sway now - BJP chief Amit Shah or Prime Minister Narendra Modi.
"There is no remote control in this government," Devendra Fadnavis said, adding that the Shiv Sena and BJP are different parties and have different styles of functioning.
When Sanjay Raut asked the Chief Minister if he read the Saamna, the Chief Minister replied, "Lots of people read it but journalists sitting in Delhi definitely read it... You read the Saamna in the morning and you have news for the entire day and then then they keep calling me for a reaction on it. I have to tell them I haven't read it."