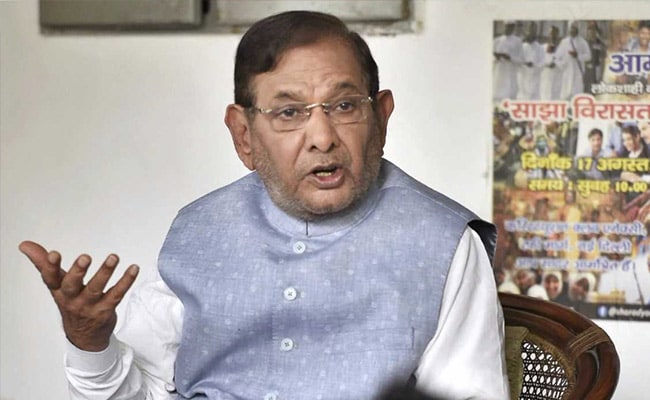 New Delhi:
Former union minister Sharad Yadav on Monday met the YSR Congress lawmakers who have been on an indefinite hunger strike since April 6 demanding special category status for Andhra Pradesh.
Mr Yadav met MPs Midhun Reddy and Avinash Reddy at Andhra Bhawan and extended his support to the YSR Congress party's cause.
"Prime Minister Narendra Modi did not fulfil his promises made for Andhra Pradesh after bifurcation. The fight by YSR Congress for special category status to Andhra Pradesh is genuine and they have been doing great work," he said.
Shard Yadav said that the then Prime Minister Manmohan Singh gave assurance in parliament that every problem after division would be addressed by the central government, but after taking over as Prime Minister in 2014, Modi has "ignored it".
The hunger strike was launched on April 6 after all the five YSR Congress Lok Sabha members tendered their resignations to the Speaker.
Two senior lawmakers, Mekapati Rajamohan Reddy, 73 and Varaprasada Rao, 64 were admitted to Ram Manohar Lohia Hospital after their condition deteriorated due to continuous fasting. However, they are continuing the fast in the hospital against medical advice.
The rest of the lawmakers -- YV Subba Reddy, Midhun Reddy and Avinash Reddy -- are continuing their hunger strike at Andhra Bhawan.
The YSR Congress has been demanding special category status to Andhra Pradesh, which entails special financial packages and other perks from the Central government, on the contention that after Telangana was carved out of the state in 2014, most of the revenue sources including the capital city of Hyderabad have gone to Telangana.
The residuary state of Andhra Pradesh is developing Amravati as its capital and has been demanding financial assistance from the Centre for that.
The ruling Telugu Desma Party (TDP) also stalled Parliament over this demand before it walked out of the BJP-led ruling coalition, the National Democratic Alliance (NDA) in March.