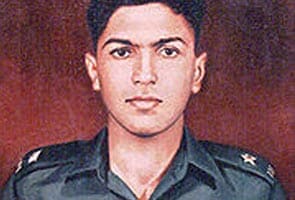 Mathura:
Maheshwari Khetarpal, 85, recalls vividly how she and her husband with their friends celebrated after India declared ceasefire on the western front in the 1971 war with Pakistan. They thought their son, Lieutenant Arun, 21, would return home. But he never did.
"We heard about the ceasefire on All India Radio. We were together with our friends, including the Maharani of Faridkot. They were playing bridge. Everybody was happy. They said let's celebrate and offered us drinks," Maheshwari said.
Recalling the chilly morning of Dec 16 that year when "a pall of gloom followed an illusion of happiness", she said: "I was in the kitchen. Suddenly the door bell rang. I skipped a beat. There was a man with a telegram. Telegram? So early? I read it and it said Arun has achieved martyrdom. We didn't expect that, but I was knowing that all was not well. A mother's heart, you know."
The wrinkled-faced woman was speaking to IANS at a ceremony by the army's Strike 1 Corps headquarters in the cantonment area of this Uttar Pradesh town held to remember the fallen heroes of the 1971 war.
Maheshwari, seated near the statues of three infantry soldiers and a 25-pounder gun -- a memorial commemorating the "epic battle", said her son "was called Tiger" even by the enemy troops.
She said when her husband Brigadier M.L. Khetarpal went to Pakistan to visit his native place in western Punjab, he was hosted by a Pakistani brigadier, Mohammed Naasir. Naasir, she said, claimed that Arun had died while fighting with him in the 1971 war in Shakargarh sector between Jammu and Punjab.
"He told my husband that Arun fought like a tiger and we went to see him after his death. He said Arun was truly a tiger, a brave soldier."
Arun had just joined the Indian Army as the second lieutenant when he was called to the war front in 1971.
The battle in Shakargarh - known as battle of Basantar, Dec 4-16, 1971 - was one of the greatest tank battles fought by the Indian Army. Basantar is a river which runs from the Shivalik hills of Jammu and Kashmir to flow down into Pakistan. It lies midway between Pathankot and Jammu.
The battle took place in the Shakargarh sector, a bulge of Pakistan boundary on the Indian territory.
The point was of strategic importance for both sides as it comprised road links to Jammu from Punjab which, if cut off by Pakistan, could have led to snapping of a key link to Jammu and Kashmir.
According to war history, Pakistan had an advantage of having an army base in Sialkot close to the battle zone and the Indian Army maintained a base at Pathankot, nearly 300 km from Shakargarh.
Arun, who served in 17 Poona Horse, a cavalry unit, fought the battle on Famagusta, a British Centurion Mark 7 tank, after he was ordered to establish a bridgehead across the river, covered with deep minefields.
He fiercely attacked and overcame the enemy defences along with his tank troops, and destroyed nearly 10 Pakistani Patton tanks before his tank was also hit and burst into flames.
The battle was won, but the victory came at a great cost for the Indian Army. Seven officers, four junior commissioned officers and 24 other ranks and soldiers were killed while serving the nation. Arun was one among them who was honoured with the Param Vir Chakra, the highest war-time gallantry award, posthumously.
The fallen heroes were remembered at a ceremony at the army's Strike 1 Corps headquarters Thursday where Arun's mother was the guest of honour.
Remembering her son, Maheshwari tried to conceal her tears between her choked voice. "Will you believe me. Two days ago before attending this ceremony, Arun came in my dream and said 'Mummy, you are going to attend the Basantar Day...please don't cry there'," she said.
"I am not crying. He was always like that. He had a spirit of sacrifice, was always caring."
"My son did nothing extraordinary. This was his duty and he had joined the army to protect the nation. He did me proud. I am an equally brave mother," she said.
A trained dietician from Delhi's Lady Irwin College, Maheshwari is all praise for the army for honouring her time and again for her son's sacrifice. But she regretted that the government was not observing the day on a national level.