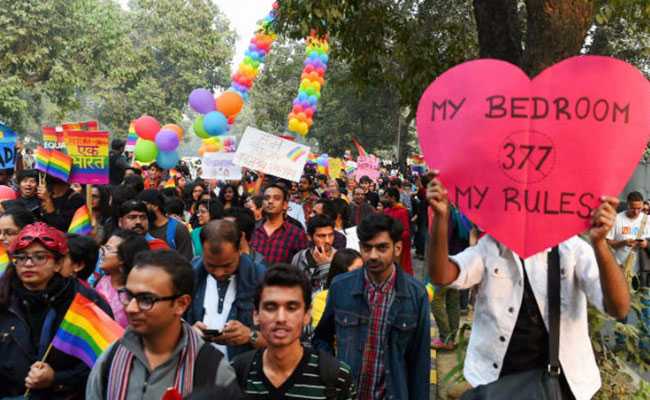 New Delhi:
The
Supreme Court
today said that a larger group of judges would revisit and examine the constitutional validity of Section 377 of the Indian Penal Code (IPC), a law that criminalises sexual activities "against the law of nature". The punishment for the same could last a life term. The top court will now re-visit its 2013 verdict that criminalises gay sex. A three-judge bench of Supreme Court headed by the Chief Justice of India, Dipak Misra said, "Earlier decision of the Supreme Court in 2013 requires to be reconsidered because of the constitutional issues involved and we think it appropriate to send this to a larger bench."
Here's the timeline of the Section 377 case:2001: Naz Foundation files petition
Naz Foundation, an NGO that work on HIV/AIDS and sexual health issues, files a petition in the Delhi high court against Section 377.
2009: Delhi High Court on Section 377
In 2009, the Delhi High Court described Section 377 as a violation of the fundamental rights guaranteed by the constitution. Religious groups, however, had appealed against the decision in the Supreme Court.
2013: Supreme Court Re-ciminalises Gay Sex
That Delhi High Court judgement was overturned by the Supreme Court in December 2013. It said that amending or repealing Section 377 should be a matter left to Parliament, not the judiciary.
2016: Curative petition by Naz Foundation, activists heard
In February 2016, the three-member bench headed by then the Chief Justice of India TS Thakur said that all the curative plea of NGO Naz Foundation and some gay rights activists will be reviewed afresh by a five-member constitutional bench.
2017: Supreme Court Upholds Right To Privacy
In August 2017, the Supreme Court held Right to Privacy as a fundamental right. Sexual orientation, the court said, is an "essential component of identity" and the rights of lesbian, gay, bisexual and transgender population are "real rights founded on sound constitutional doctrine".