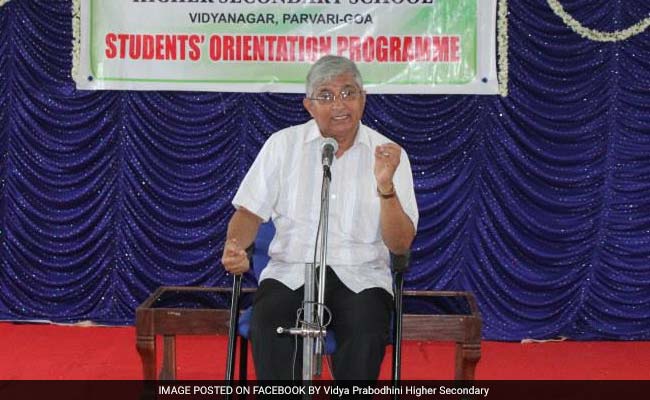 Panaji:
Subhash Velingkar, who was sacked as the state chief of the Rashtriya Swayamsevak Sangh or RSS in Goa, has blamed union ministers Manohar Parrikar and Nitin Gadkari for being behind his removal.
"I was not shocked. I was anticipating it (the action) (Manohar) Parrikar and Nitin Gadkari are powerful at the Centre. They have (been) strongly lobbying there. They must have tried for it. They must have wrongly fed the RSS high command," Mr Velingkar said.
"There is a possibility of Gadkari and Parrikar misreporting to the RSS headquarters on the issue. Parrikar is very much behind this. For them, I was the only focal point and they tried to break the (MoI) movement. Later they will repent for doing it," he added.
Late on Wednesday evening, more than 400 RSS volunteers had announced that they were resigning in protest against the sacking of Mr Velingkar.
The volunteers announced their decision after several leaders of the state RSS, which is the BJP's ideological mentor, met at a school complex near capital Panaji for over six hours to discuss the removal of Mr Velingkar, one of the most influential RSS leaders in Goa.
Mr Velingkar, who also heads an organisation called the Bharatiya Bhasha Suraksha Manch, has been critical of the state's BJP government, which he says is promoting English over regional languages like Konkani and Marathi.
On Monday, Mr Velingkar warned that the BJP could lose next year's assembly elections in Goa, threatening to mentor a new political party to defeat it. Last week, he was spotted in a protest where black flags were waved at BJP President Amit Shah when he visited the state.
Goa Chief Minister Laxmikant Parsekar, who has refused comment describing it as an "internal matter" of the RSS, and his predecessor and now Defence Minister Manohar Parrikar, have been accused by Mr Velingkar of "betraying people's trust" by going back on the BJP promise of regional languages as a medium of instruction in schools.
His supporters see a BJP hand in his removal. "RSS is a parent body. Goa BJP cannot dictate terms to the RSS," said a senior RSS leader Jayant Leleeven as volunteers shouted "Shame, Shame."