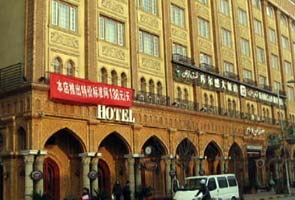 Beijing:
The safety of two traders from Mumbai who are trapped in a hotel near Shanghai is creating a diplomatic flashpoint for India and China. In Delhi, the Chinese ambassador visited government officials to reassure them that the safety of Indians in China is a priority and will be respected.
In China, officials say criminal proceedings will begin against five locals who held the Indians hostage over a business dispute.
"This is an individual case triggered by economic disputes. Chinese judicial authority is dealing with this case according to law. China hopes India can treat this case with objectivity and fairness, and actively educate Indian merchants in China to behave according to the Chinese law, behave honestly and operate legitimately," said Hong Lei, a spokesperson for the Chinese Foreign Ministry.
The traders - Deepak Raheja and Shyam Sunder Agarwal - cannot leave a hotel in Yiwu, a trading hub, because their lives are at risk. Waiting outside are angry locals who say the company the traders worked for owes them a million dollars. Chinese authorities have allegedly told Indian officials they will not provide any assistance unless the debt is settled. "Please save us...get together and help us," pleaded Mr Agarwal in a phone interview to NDTV this afternoon. "They have stripped us, thrown things at us, beaten us, tortured us. We are being treated worse than animals," he said.
India wants the police in Yiwu to provide cover for Mr Agarwal and Mr Raheja as they are moved to the consulate in Shanghai. The Indian government says it has reassured Chinese officials that the Indians will not be allowed to leave the country. They will face any court proceedings that are justified. But they need to be moved away from Yiwu.
Mr Agarwal and Mr Raheja worked for a company whose owner - reportedly a Yemeni national - is absconding after racking up a million-dollar debt. The Indians were then taken hostage by angry local traders. On December 21, S Balachandran, an Indian diplomat spent more than five hours in court negotiating their release. He was not allowed to eat or visit the bathroom despite declaring he was a diabetic. He fainted and was rushed to hospital, provoking India to lodge a formal protest in China and in Delhi.