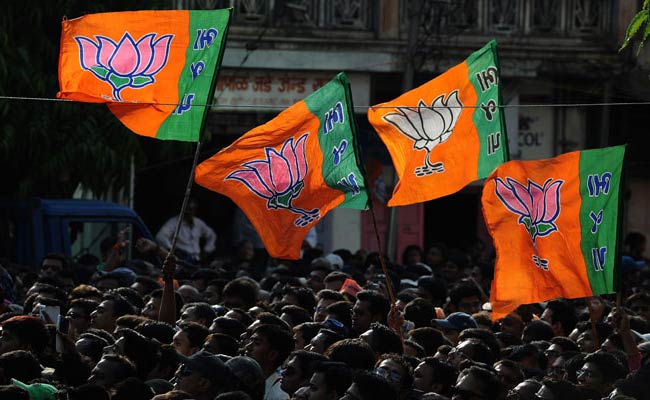 Highlights
BJP has, so far, named 304 candidates of Uttar Pradesh's 403 seats
The second list includes family members of many BJP leaders and veterans
Rajnath Singh's son, Pankaj Singh, will contest from Noida constituency
Lucknow:
New imports and relatives of senior politicians continue to feature among the BJP's candidates for the Uttar Pradesh elections despite heartburn in party ranks and even protests against the party fielding "outsiders" earlier this week.
A second list of 155 candidates announced today includes Pankaj Singh, the son of union Home Minster Rajnath Singh and Mriganka Singh, the daughter of party MP from Uttar Pradesh, Hukum Singh. The new list also names Rita Bahuguna Joshi as the candidate from Lucknow Cantt.
Ms Joshi, a former Congress chief from the state, joined the BJP only in October, 2016. Lucknow Cantt is the seat she won in 2012 and this year's contest could pitch her against Aparna Yadav, the second daughter-in-law of Mulayam Singh Yadav, if the Samajwadi Party fields her from the constituency.
Brijesh Pathak, another leader who recently joined the BJP after quitting Mayawati's Bahujan Samaj Party has been been given a ticket from Lucknow Central.
Despite Prime Minister Narendra Modi's firm no to family members of party men contesting elections, the BJP received requests to accommodate almost 50 sons, daughters and other relatives from BJP leaders for this year's UP elections, to be held in seven phases from February 11. The first list had included Sandeep Singh, grandson of former chief minister Kalyan Singh - now the governor of Rajasthan.
Rajnath Singh's son Pankaj will contest as the BJP candidate from Noida. Pankaj Singh wanted to contest the 2014 Lok Sabha elections but was not fielded by the BJP then. But he has been active in politics and has also held party positions.
It is Mriganka Singh's candidacy from Kairana that is expected to cause the dismay in a party that celebrates "one party, one post." Mriganka Singh is a political novice and already a senior BJP leader Anil Chauhan has quit the party last week protesting against the plan to field her.
Ashutosh Tandon, the son of BJP veteran Lalji Tandon has been fielded again from Lucknow North, the seat he had won in 2012. Mr Tandon's candidacy had in the last election raised allegations of the BJP indulging in the dynastic politics it accuses rivals like the Congress and Samajwadi Party of.
Another son and "outsider" in today's list is Utkarsh Maurya, the son of Swami Prasad Maurya who crossed over from the BSP six months ago. About two dozen people who joined the party only recently had featured in the first list of 149, sparking protests. A meeting to decide on the second list had to be delayed.
The BJP had won only 47 seats in the last assembly election but sees its best chance in years to win UP again after sweeping 71 of states 80 seats in the 2014 Lok Sabha elections.