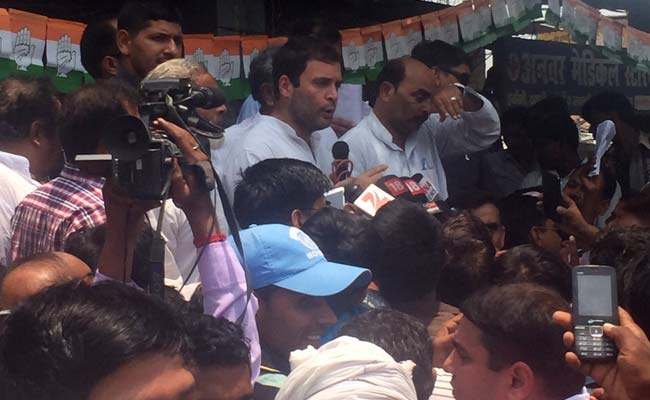 Amethi, Uttar Pradesh:
Rahul Gandhi today alleged that his constituency Amethi was not being treated fairly and all political parties agree with the Congress, at least locally. "All parties unanimously agreed that whether it is the Pradhan Mantri Gram Sadak Yojana or Indira Awas Yojana, the central government is not giving fair treatment to Amethi," the Congress vice president said after a meeting with district officials and lawmakers. "This view is held not just by Congress party, but by representatives of other parties too," he added.
The 44 year old MP has publicly accused Prime Minister Narendra Modi of cancelling permission for a massive food park in Amethi because of "politics of revenge". Rahul Gandhi had also raised it in Parliament earlier this month, and yesterday, said: "Exact revenge using me, don't use farmers and the poor."
Mr Gandhi also faced protests in his constituency. A group of activists shouted slogans against him (in front of media persons). Union Food Processing Minister Harsimrat Kaur has repeatedly rejected Mr Gandhi's allegations.
Rahul Gandhi is on a three-day visit to Amethi, his first after a 57-day sabbatical that saw him missing the first part of the Budget session. After his return, Mr Gandhi has spoken more times in Parliament than he has ever done in 11 years. He has also been touring various states to champion the cause of farmers.
Yesterday, he declared that he would give "zero on ten" to the BJP-led coalition after its one-year rule.