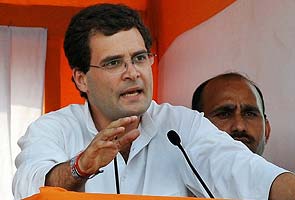 New Delhi:
Congress Vice President Rahul Gandhi will address India Inc this week at a star-studded gathering organised by industry body CII, to be inaugurated by the Prime Minister and attended by top politicians.
Mr Gandhi will speak at a special plenary session on Thursday, Day 2 of the CII's (Confederation of Indian Industry) annual general meeting. This will also be his first big public address after taking over as number 2 in the ruling party in January and many are waiting keenly to evaluate his performance on what has traditionally been seen as Narendra Modi turf.
The BJP leader and Gujarat Chief Minister is seen as a darling of Indian Industry, with all top industrialists routinely praising his business canny. In January this year, soon after Mr Modi won a fourth term as Gujarat CM, captains of industry shared stage to fete what they call his progressive governance and industry-friendliness at the Vibrant Gujarat summit that he holds once every two years.
The Ambani brothers were there this year, both of them, as was then Tata Group Chairman Ratan Tata, Maruti Suzuki chairman RC Bhargava and Mahindra and Mahindra chairman Anand Mahindra. They promised more investment in Gujarat.
Mr Gandhi has so far pitched in a big way for social development, staying overnight at the homes of poor Dalit villagers, espousing the cause of farmers. The wooing of industry will be a new chapter. So far his one attempt has been to take business bosses like Ratan Tata to Kashmir for an interaction with the youth in October last year.
The Congress finds comparisons between Rahul Gandhi and Narendra Modi odious, but the battle for Lok Sabha in 2014 is widely expected to be a personality clash between the two.
The ruling party has not officially declared that Rahul Gandhi will be its candidate for the post of Prime Minister, and the 42-year-old has himself sought to quash speculation by saying he is not interested, but Congressmen trip over themselves to assert that there is no other contender in the party.
The BJP too is yet to make an official announcement that Mr Modi will lead it in the next elections, but the contours of a new team of officebearers that will steer the party in 2014 make the Gujarat CM's expanding influence in the party amply clear, with many leaders close to him finding key assignments.