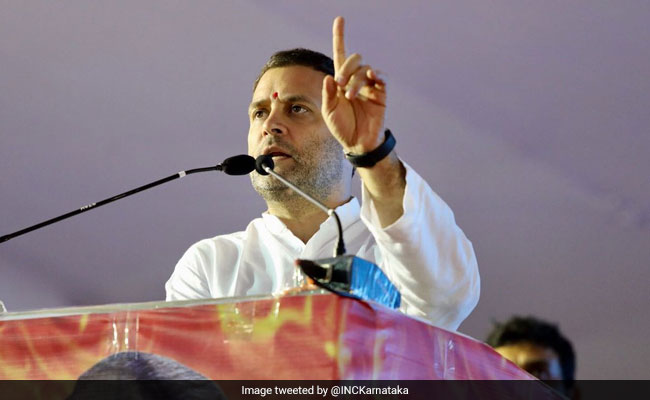 Bengaluru:
Congress president
Rahul Gandhi
today said said the government would be able to instill faith among the young only by competing with China in creating jobs, and asserted the issue would be the central theme for India in the coming years.
China would be India's competitor in the sector for the next 30 years, Mr Gandhi said.
"The only way for the government to instill faith in it among the youngsters is to create jobs by competing with China, which will be India's competitor for the next 30 years," he said, adding that the issue of job creation would be the central theme in the future.
For a change to take place, there has to be a shift in mindsets, just as there was before the Green revolution and the telecom boom, he said during an interaction with business people in Bengaluru.
Replying to a query, he said small entrepreneurs had a big role to play in the country's development and the Central government should support them in creating jobs.
"I also think there has to be a different vision and structure for large and small industries," he added.
To another question,
Mr Gandhi said
the Congress would start the process of drafting a national manifesto in the next few months.
"We are going to produce a national manifesto of the Congress party over the next few months. We are having conversations over it within the Congress to create the manifesto. It is a big step. We will start the process," he said.
Replying to yet another query, Gandhi said the Congress did not agree with the GST "designed" by the BJP.
He said the Congress had insisted on a one-layer tax to combat corruption.
"We want a one-layer (GST) so that there is no corruption taking place," he added.
Mr Gandhi said the Congress would review GST once it came back to power.
He also said India's GST, which is similar to that of Pakistan and Sudan, was the most complex tax regime in the world.
"Experts have said the most complex tax regime in the world is GST in India. So we will transform the current GST, which I call Gabbar Singh Tax, into a simple GST by having one layer, which includes petroleum products," he said.
To a question, Mr Gandhi said the NDA's bullet train project was just a showpiece and poorly conceptualised.
"Almost Rs 1 lakh crore is going to be spent on the project which is badly conceptualised... It is just a showpiece,"
he said.
Mr Gandhi also said the country was going to "pay a price" because of demonetisation, GST and the Nirav Modi issue.
The Congress president had arrived in Karnataka yesterday on the sixth leg of a campaign as part of the party's 'Janashirvada Yatra', ahead of the May 12 election in the state.