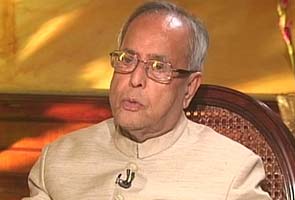 New Delhi:
President Pranab Mukherjee was on Thursday briefed by the government's top troubleshooters - Law Minister Kapil Sibal, Home Minister Sushil Kumar Shinde and Parliamentary Affairs Minister Kamal Nath - on the urgent need to bring an ordinance that protects convicted MPs and MLAs from disqualification.
Sources said the government explained to the President the need to ensure there is no vacuum in the law.
The President, who reportedly is "unsure of the compelling reasons" for the ordinance, has sought more clarifications on it and may wait for Prime Minister Manmohan Singh to come back from the US before he signs the ordinance, sources have told NDTV.
The PM is scheduled to return to New Delhi on Tuesday. That means, the ordinance may not be signed before a crucial hearing against Lalu Yadav, an ally of the Manmohan Singh government, who faces disqualification if a Jharkhand court convicts him on Monday in the multi-crore fodder scam.
However, if signed, the ordinance will come into retrospective effect from July 10 - that may come as a relief to Mr Yadav, if he is convicted.
The BJP alleges that the ordinance, hurriedly approved by the union cabinet this week, was timed to protect politicians like Mr Yadav. On Thursday evening, top BJP leaders met the President and requested him to return what senior party leader Sushma Swaraj described as an "illegal, immoral and unconstitutional" ordinance.
The ordinance overturns a Supreme Court order disqualifying lawmakers immediately after conviction and provides that MPs or MLAs convicted in a corruption case or sentenced to two years in jail can stay on without a salary or voting rights if they appeal to a higher court.
Several activists and people from different forums say the ordinance tries to protect tainted lawmakers who have lost the right to decide on laws.
Some Congress leaders have also questioned the ordinance. "Legalities aside allowing convicted MPs/MLAs to retain seats in the midst of an appeal can endanger already eroding public faith in democracy," union minister Milind Deora tweeted on Thursday, in a major embarrassment to the government.