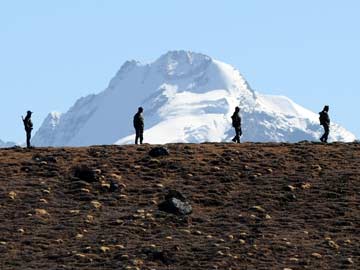 New Delhi:
Poor progress in road and railways infrastructure near the border with China has been flagged by a parliamentary panel as a major concern for India's defence.
Only one of 27 roads sanctioned eight years ago has been completed and crucial railway links are yet to progress beyond paper, says the Standing Committee on Defence. It has criticized the slow pace of border defence infrastructure and asked for urgent steps to remedy it.
Initial project reports for 11 of the roads have not been prepared. Their deadlines were between March this year and October 2016. Some major roads lagging behind are at Daulat Beg Oldie, where Chinese troops have intruded in recent months.
The committee noted that 14 strategic railway lines along the China border, proposed by the Defence Ministry in 2010 and 2012, are still on paper. These include the Jammu to Poonch and Srinagar to Leh routes.
The railways ministry has reportedly said it does not have Rs 55,000 crore needed to complete these projects, and wants the defence ministry to fund them.
"It is disquieting to note that no direct response has been given by the Ministry of Defence in regard to pin-pointed query as to what difficulties were faced by India due to poor network of road, rail and airports/helipads. To the specific query, the ministry has given a rhetorical answer," the committee said in its report.
Contracts for six Advanced Landing Grounds in Arunachal Pradesh have been awarded after three years and modernization of 10 airfields has been delayed by four years.
India and China have had a series of confrontations at the border since April last year when some 50 Chinese soldiers crossed the Line of Actual Control or the de-facto border and set up a remote camp at Daulat Beg Oldie in the Depsang Valley, 19 kilometres into Indian territory.
On May 6, both sides agreed to pull forces back to positions held before the confrontation, ending the 21 day stand-off.