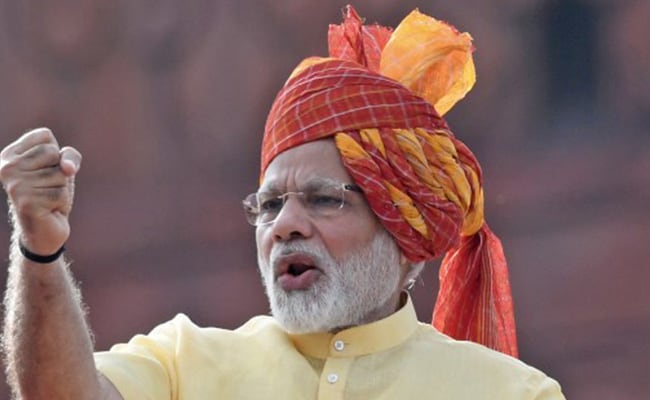 Highlights
"Security is our top priority," said PM Modi in his speech at Red Fort
We're strong enough to fight those trying to act against India, he said
His remarks came amid the tense Doklam standoff between India and China
New Delhi:
India can defend itself from anyone who seeks "to act against our country", Prime Minister Narendra Modi said in his Independence Day speech this morning amid a tense standoff between Indian and Chinese troops in Doklam, a Himalayan plateau.

"Security is our top priority," PM Modi said in his nearly hour-long speech before thousands at the iconic Red Fort in the national capital as the country marked the 70th anniversary of the end of British colonial rule.

"Be it the sea or the borders, cyber or space -- in all spheres, India is capable and we are strong enough to overcome those who try to act against our country," PM Modi said.

His remarks came as New Delhi's dispute with Beijing over a strategically key Himalayan plateau enters its second month on Wednesday, with hundreds of soldiers reported to be facing off against each other.


China claims that on June 16, Indian troops crossed the border at Sikkim and stopped the Chinese army from constructing a road. India says it had warned Beijing that the road would be treated as a serious security concern because it opens up access to the "Chicken's Neck", a narrow piece of land that links India to its northeastern states.
New Delhi wants to discuss the stand-off diplomatically but China has demanded the Indian Army needs to withdraw first from the Doklam plateau for any meaningful dialogue to take place.
China has repeatedly warned of an escalation if India does not pull back its soldiers with state-controlled newspapers warning this week that a countdown to a military standoff has begun.
Defence Minister Arun Jaitley said in parliament last week that India's military is ready to meet any challenge to the country's security. "The armed forces have been made fully capable...because even today the nation faces challenges from our neighbouring countries" he said.