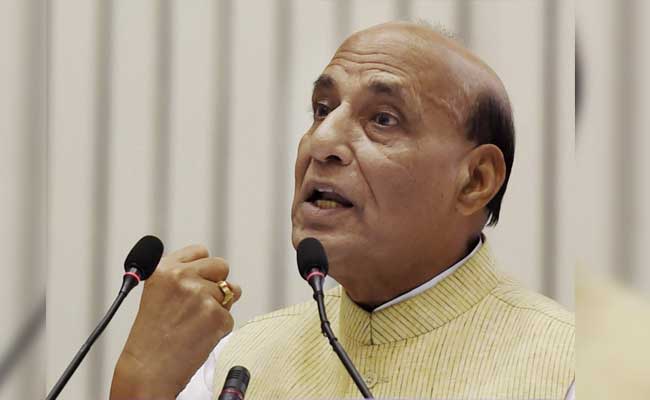 New Delhi: Home Minister Rajnath Singh and External Affairs Minister Sushma Swaraj will brief the opposition parties this evening at Mr Singh's home on the ongoing standoff with China over a road builiding in Sikkim and the security situation in Kashmir after the recent terror attack on Amarnath pilgrims. A fresh batch of around 3,500 pilgrims, escorted by security forces, left for the Amarnath shrine on Thursday morning. The all-party meeting is primarily aimed at taking the opposition leaders into confidence over the major national issues.
Here are the top 10 updates on this developing story:
Sushma Swaraj and Rajnath Singh will explain the situation on the aggressive dispute with China to political leaders ahead of the parliament session that begins on Monday.
The Home Minister will also provide details to the opposition about the Amarnath Yatra attack in which seven people were killed, along with information on the security conditions in Jammu and Kashmir, where two soldiers were killed yesterday in firing from Pakistan.
Seven Amarnath pilgrims from Gujarat were killed on Monday night in a terror attack in Jammu and Kashmir's Anantnag. Lashkar-e-Taiba terrorist Abu Ismail is behind the attack, police said. A search is on for the 26-year-old Pakistani national.
On the eastern front, China has warned that it will not accept any dialogue till India withdraws its soldiers from what Beijing claims as its territory in Doklam. India and Bhutan say the land belongs to the tiny Himalayan kingdom.
China claims that Indian troops entered the region it calls Donglang - close to the tri-junction between India, China and Bhutan - last month and stopped Chinese troops from building a road there.
China says it has every right to build a road on its own territory. But India agrees with Bhutan's claim to the region, which the Chinese call Donglang but is called the Doklam plateau by Bhutan.
A Chinese government spokesperson said last week that India must pull back its troops "to avoid there being an even more serious situation creating even more serious consequences".
Defence Minister Arun Jaitley had said that China, which has sought to remind India of its defeat in the 1962 war, would do well to remember that India today is "not the same as that of 1962."
Congress Vice President Rahul Gandhi met the Chinese ambassador to India last weekend. On Monday he tweeted, "It is my job to be informed on critical issues"
China has warned of serious consequences if it does not withdraw soldiers from the region. Chinese media urged Beijing to reconsider its stand and support Sikkim's "independence".