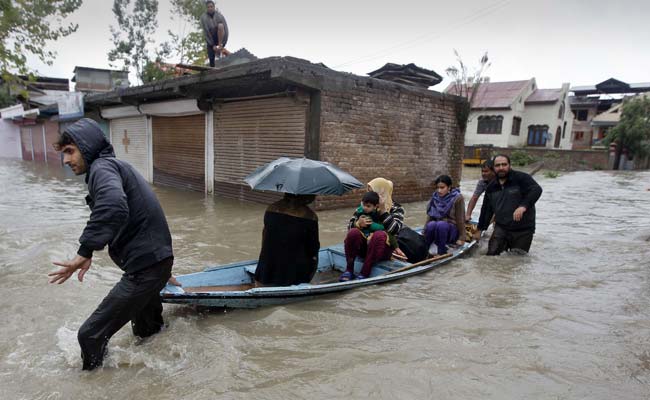 New Delhi:
The Army and Air Force are helping in efforts to restore connectivity in large portions of Kashmir, including capital Srinagar, which have been completely cut off since last night.
The state's worst floods in 60 years have caused huge damage to telecom infrastructure and both mobile and fixed phone lines are down. (
Here's How You Can Help
)
Restoring phone lines in Srinagar may take up to 72 hours, sources said.
"Telephone exchanges of all telecom operators are under water. Not just BSNL but most private operators have had to shut operations," said Minister for Communication and Information Technology Ravi Shankar Prasad.
The Ministry has rushed senior officials to Srinagar to "try for an alternate solution." (
J&K Floods: Post Your Message Here
)
State-run operator Bharat Sanchar Nigam Limited said it is rushing experts from Hyderabad and Bangalore to immediately restore mobile services with the help of satellites.
"Kashmir Valley is cut off from the rest of the country. Mobile link and other services have been affected due to floods which have badly hit BSNL and others telecom infrastructure," a senior BSNL official said.
Vodafone may send a portable generator which was used in previous national emergencies. Idea is trying to get boats to access their centre and diesel to restart their generators.
Airtel is trying to tie up with other operators to share resources and provide some connectivity. Airtel is also keeping its stores open to public so that people could come and charge their phones, since power lines are also down. People are now on battery back-up for their phones. (Read:
Thousands Stranded in Srinagar, 150 Dead in Worst Floods in 60 Years
)
For a while, Aircel users reported that their network was working in Srinagar, but now only Aircel's 3G connections are reportedly working. Ahmed Tauqeer, who lives in an area in Srinagar that is in the higher reaches and is not flooded, told relatives in Delhi on Whatsapp that he could now contact them only using the internet through his Aircel 3G connection.
Some of Aircel's crucial mobile centres are located on high-rise buildings. The service centres of other operators, which are located on lower floors, are flooded. Their services can be restored only after the water is drained out.
Ahmed Tauqeer said his family has had no contact with relatives in other parts of the city that are inundated. They have no way of ascertaining whether their relatives are among those already rescued or are among the thousands still stranded in the city.(Read:
Srinagar Resident Posts Flood Woes on Facebook
)