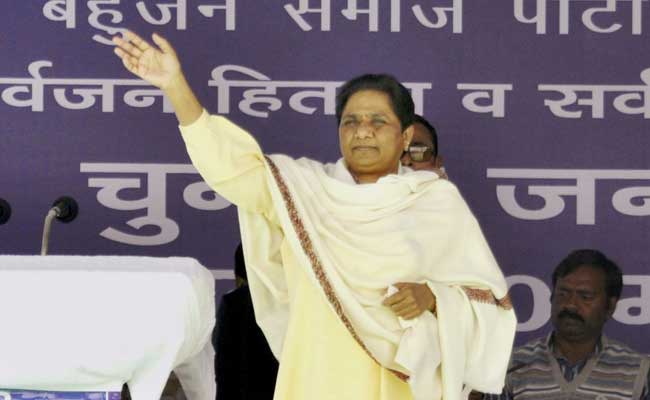 A woman who represents millions of India's poorest citizens is now the country's most sought-after politician.
Mayawati, an icon of country's traditionally oppressed Dalits who were once known as "untouchables," is central to opposition efforts to prevent Prime Minister Narendra Modi's reelection in 2019.
With rising sectarian tensions leading to stronger political unity among Dalits -- a swing force that consists of about 16.6 percent of country's population -- many parties are turning to Mayawati to forge an alliance ahead of general elections.
Now the former chief minister of Uttar Pradesh -- the country's most populous state -- may be a front runner for prime minister if there's a hung parliament and neither Modi's Bharatiya Janata Party or Rahul Gandhi's main opposition Congress party can form government, said Ajoy Bose, a Delhi-based political analyst who wrote a biography on the 62-year-old.
"Almost from a position of political oblivion, there are signs of the resurrection of Mayawati," said Bose. "She has definitely regained ground dramatically. There is a possibility that she could even be a prime ministerial candidate -- the whole idea of having such a prominent Dalit leader as prime minister will be tempting for lot of other parties as it will give them some edge."
Modi is still India's most popular leader, although his standing in the electorate appears to be weakening. He would win a second term in 2019 if elections were held today, the latest opinion poll by ABP News-CVoter predicted.
In Uttar Pradesh, which holds the key to forming the national government, Modi's ruling National Democratic Alliance would lose 35 seats compared to the 2014 elections if Mayawati's Bahujan Samaj Party and the Samajwadi Party joined forces, the poll found.
Similarly, Congress could make sizable gains in the state if it joins hands with those parties. Another survey, from India Today, predicted an alliance of opposition parties would come out neck and neck with Modi's ruling coalition.
Messiah for the Oppressed
Mayawati, who is from a low caste, draws support from the bottom rungs of the country's traditional caste system. She grew up in a Delhi slum and served as a teacher before she started her political career by cycling to dusty villages to meet constituents in Uttar Pradesh, a state she went on to govern four times. Vowing to end caste discrimination and build a society based on equality and fairness, she has become a messiah for oppressed communities.
Although India's economy is expected to expand 7.3 percent in the fiscal year to March 2019, many of its citizens are still denied basic rights such as attending regular schools and accessing public water supplies.
As the election year approaches, Mayawati is gradually striking one-on-one deals with smaller, regional outfits to strengthen her position and improve her bargaining power. With her political survival at stake, she forged a surprise alliance with her rival, the Samajwadi Party, for elections in Uttar Pradesh. The move helped them defeat BJP candidates in some of their strongholds in recent by-elections.
This is a massive turnaround in Mayawati's political fortunes since the 2014 general elections, where the party could not get even a single seat despite taking the third highest vote share. Her party also saw its worst performance since 1991 in March 2017 in the important Uttar Pradesh state assembly elections. Despite these setbacks, her vote share has remained formidable. Dalit loyalty to her is so high that they vote for whichever party she allies with. Now, as Dalit resentment against Modi grows amid rising atrocities, she is expanding her political ambitions.
'Honoured Sister'
Mayawati, known as "behenji," or honoured sister, has also tied up with Janata Dal (Secular) in Karnataka, Indian National Lok Dal in Haryana and Janta Congress in Chhattisgarh. She is trying to expand her stronghold in Uttar Pradesh to as many as 18 other states.
"We have a strong presence in many states and hold a robust vote share," said Ashok Siddharth, a BSP lawmaker in upper house of parliament. "Behenji has the support of the poor and is capable of transferring votes to alliance partners." This will increase the party's influence and expand its coalitions, he said. "Workers have a desire to see Behenji as prime minister -- it is possible if we get a good number of seats."
While her talks to form an alliance with Congress for the November and December state elections in Madhya Pradesh and Rajasthan have failed, both sides are showing a willingness to join forces in the general elections. Gandhi said on Friday that he expects a tie-up with the BSP in 2019 elections.
"Mayawati is the only leader who has transferable votes. Hers is the only party which has a pan-India presence," said Kunwar Danish Ali, a leader of Janata Dal (Secular), explaining his party's alliance with Bahujan Samaj Party. "When you talk of a coalition, she is a formidable force."
Homes, Diamonds
Mayawati is known for her effective law and order policies, protecting rights of suppressed groups and investing in public infrastructure projects including highways and power stations.
Yet she is also criticized for spending millions of dollars to create parks and memorials of Dalit heroes -- including giant statues of herself -- and accused of lavishing money on luxurious homes and diamond jewelry. She's also been tainted by corruption accusations.
"Dalit issues will be one of the major factors in the 2019 elections," said Badri Narayan, professor at the Govind Ballabh Pant Social Science Institute in Allahabad. "This is an opportune moment for Mayawati to negotiate for the higher post."
(Except for the headline, this story has not been edited by NDTV staff and is published from a syndicated feed.)